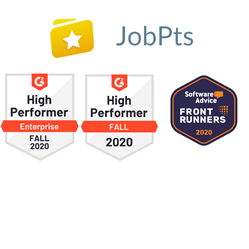 Ease of doing business with JobPts scores 100% satisfaction rate on the G2 Satisfaction Score, based on user ratings.
LEWISVILLE, Texas (PRWEB) September 28, 2020
JobPts acquired two more badges from G2Crowd. G2 announced JobPts position as a high performer in two of the recognition and rewards software categories. High Performer Enterprise Fall 2020 segment coming from reviewers at companies with 1,001+ employees and a High Performer Fall 2020 based on an all-market review.
G2 Grid Reports® scores products and vendors based on reviews gathered from the user community, as well as data aggregated from online sources and social networks. They apply a unique algorithm to this data to calculate customer satisfaction and market presence scores in real-time. Users consider different criteria, such as enterprise business features, pricing, setup, and installation in their satisfaction reviews.
"We believe in delivering premium expertise, and we are thrilled it is recognized by our customers, on these most trusted review sites," says Goran Rice, Chief Revenue Officer at Semos Cloud. "By developing a culture of appreciation, we help international companies like SAP, JTI, OMV Aktiengesellschaft, MAPFRE S.A., DTE Energy Co., Sun Communities Inc., and EQUATE Group achieve better business results."
Reporting, Integrations, and Employee engagement are the highest rated JobPts features up to 10% above average, outperforming the main competitors in ease of use and quality of support.
The report highlights:

93% of users find integrations with business solutions such as HRIS systems and social tools an advantage.
93% of participants said it provides employee survey and feedback features, and it's flexible and easy-to-manage employee reward options.
92% of reviewers find mobility and consistent availability as a strength.
JobPts also was named a FrontRunner for Employee Recognition Software by Software Advice. FrontRunners Methodology is designed to help businesses evaluate which software products may be right for them. FrontRunners is published on Software Advice, the leading online service for businesses navigating the software selection process. FrontRunners evaluates verified end-user reviews and product data, positioning the top scoring products based on Usability and Customer Satisfaction ratings.
JobPts, an SAP Endorsed App is a comprehensive solution that shapes positive employee experience and promotes employee success. It comes with built-in solutions for employee surveys, internal communications, and collaboration, making it an all-in-one Recognition and Rewards Platform. Built on the SAP Cloud Platform and integrated with SAP SuccessFactors to make more informed data-driven decisions, JobPts is the perfect solution for extending Human Experience Management efforts.
About Semos Cloud
Founded in 2014, Semos Cloud is an HR tech company with an innovative approach to reshaping the world of Human Capital Management by putting people at the heart of every organization. Semos Cloud's Employee Experience Suite of apps is used by some of the world's largest organizations and is, therefore, revolutionizing the experience of hundreds of thousands of employees across the globe. To learn more, visit: https://semoscloud.com
***
Required disclaimer by Software Advice: FrontRunners constitute the subjective opinions of individual end-user reviews, ratings, and data applied against a documented methodology; they neither represent the views of, nor constitute an endorsement by, Software Advice or its affiliates.