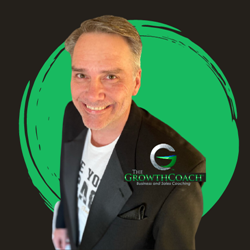 I am proud of the work that we did to find new ways of doing business and serving customers in the middle of a pandemic and economic downturn. It was this challenge that drove our success and will continue to do so as we move away from the lockdowns and restrictions. - Joe Brenneman
LADERA RANCH, Calif. (PRWEB) March 30, 2021
The Growth Coach, the international business and sales coaching franchise, is pleased to announce that Joe Brenneman, the owner of The Growth Coach of South Orange County, has been recognized with the company's international Trailblazer Award. The award was presented at The Growth Coach's virtual awards ceremony on February 22.
"Joe increased his business by 214 percent in 2020 and we recognized him for partnering with other coaches on virtual workshops, holding a virtual conference for Caring Transitions franchise owners and using the Strategic Start program to grow his client base. Joe credits his success during 2020 to following the advice he gives his clients. As he says, you have to get out of your own way and let go of limiting beliefs," Growth Coach President Lisa Hudson said. "I am so proud of Joe and am looking forward to seeing him continue to grow his business in 2021."
The Growth Coach is the largest provider of affordable group coaching workshops in the nation, but coaches also offer group and one-on-one coaching for sales professionals, managers, management teams, self-employed professionals and more through a wide variety of programs through three industry-leading series – their Foundational Series, Fundamental Series and Fast Forward Series. The Growth Coach's mission is to help business leaders build more successful business and more balanced lives. The Growth Coach of South Orange County serves Mission Viejo, Lake Forest, Laguna, Irvine, San Juan Capistrano, San Clemente, Dana Point, Newport Beach and the surrounding communities.
"I am honored and humbled to receive the Trailblazer award. As we know, 2020 was a disruptive and challenging year. So many businesses that I work with were significantly impacted. There were really only two choices: give up or find ways to pivot and reinvent ourselves. I am proud of the work that we did to find new ways of doing business and serving customers in the middle of a pandemic and economic downturn. It was this challenge that drove our success and will continue to do so as we move away from the lockdowns and restrictions," Brenneman said. "I am inspired by my clients, encouraged by fellow coaches and supported by a dedicated staff. I am excited for what is next for my clients and for their customers. Here's to another year of blazing trails through unchartered paths."
Before launching his Growth Coach in the summer of 2017, Brenneman spent his career in print and digital media – he started in newspaper advertising sales and climbed the ladder all the way to the corporate suite as chief revenue officer. His leadership roles included Advertising Director at the Lexington Herald-Leader in Kentucky, Vice President of Advertising at the Orange County Register, General Manager of the Long Beach Press-Telegram, Senior Vice President of Sales and Marketing at the Los Angeles News Group, Senior Vice President of Advertising at the Baltimore Sun and Chief Revenue Officer at the San Diego Union-Tribune. Brenneman has a degree in journalism and an MBA.
As a Growth Coach, Brenneman is certified in The Strategic Mindset coaching process, which adheres to the standards, practices and policies that the International Coaching Federation has set forth in their Code of Professional Standards and Ethics. The company's landmark Strategic Mindset Process is so effective that it comes with a money-back guarantee.
The Growth Coach, founded in Cincinnati, Ohio, sold its first franchise in 2003, but its leaders have a successful 20-year track record of helping business leaders find success and balance. Today the business and sales coaching franchise is in more than 100 markets worldwide. The Growth Coach was included in Bond's "Top 100 Franchises" and recognized in Entrepreneur Magazine's "Franchise 500" and "Best of the Best," in USA Today and has been featured on FOX, CBS and NBC.
For more information about how The Growth Coach of South Orange County can help you and your business, call (949)388-4741, email JBrenneman@TheGrowthCoach.com or visit http://www.TheGrowthCoachSouthOC.com.