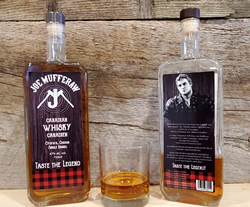 It is time the Ottawa Region gets back on the map making premium whisky and vodka to support our local farmers and communities
OTTAWA, Ontario (PRWEB) September 23, 2020
Joe Mufferaw® Spirits Company makes Canadian history with the launch of the new Joe Mufferaw Whisky and Vodka in partnership with North of 7, the 2020 Craft Distillery of the year. It's a Great Day Eh Spirit Fans? Joe Mufferaw Whisky and Vodka are made with the finest ingredients from local sources in the Ottawa Valley with no artificial flavours or additives.
The "Small Batch" Whisky is a four-grain mash of corn, wheat, rye, and barley. Aged 5.5 years in a new oak barrel from Independent Stave Company, it gets a strong sweetness from the corn and complexity from the barley, and smoothness from the wheat. The new barrel contributes strong caramel and oak flavours with a taste halfway between Bourbon and Canadian Whisky.
The Potato Pure Vodka is very well rounded and smooth with no off flavours. Double distilled with a week of gravity-fed carbon filtration which enhanced it's classic "Au Natural" flavour, perfect on ice or in your favourite vodka-based beverage.
"We wanted to launch a top quality Whisky and an ultra-premium Potato Pure Vodka with a household name that Canadians would be excited to call their own and it was then that Joe Mufferaw was created", said Les Gagne, Founder of Joe Mufferaw Spirits Co. "We use the finest ingredients without any additives to produce the highest quality and great tasting Single Barrel Whisky and our Potato Pure Vodka for sipping neat, with ice, or in your favourite mixed drink and cocktails."
Joe Mufferaw, the Man, the Myth, the Legend, was born Joseph "Jos" Montferrand in 1802 and was said to be a Canadian before a Canadian was a Canadian. A logger, Voyageur, Folk Hero, Joe Mufferaw embodies the values, integrity, valour, and strength of Canadians from Coast to Coast to Coast.
"Ottawa and the Ottawa Valley are rich in history when it comes to making Moonshine and Whisky," said Gagne. "It is time the Ottawa Region gets back on the map making premium whisky and vodka to support our local farmers and communities."
The launch of the new Joe Mufferaw Whisky and Vodka is only the beginning. There are plans for branded cocktails, a new maple flavoured whisky, Joe Mufferaw infused BBQ sauce and a new Cinnamon Flavour Liquor just in time for Thanksgiving. Excited to try Joe Mufferaw Whisky and Vodka? Visit http://www.joemufferaw.com/ to order and http://www.facebook.com/joemufferawspirits to join the conversation. Get Nipped with Joe Mufferaw and Taste the Legend!
Media Contact: Les Gagne lesgagne@yahoo.com Phone: 613-851-5752