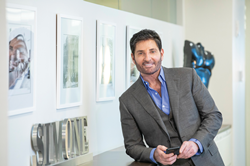 "Medical practitioners increasingly understand that they need to be at the places their clients visit frequently—whether that is the mall, the health club or the supermarket," said Joe Simone.
BRONX, N.Y. (PRWEB) May 13, 2021
The delivery of healthcare in retail settings continues to accelerate beyond urgent care centers to include major medical practices, according to Joe Simone, President of Simone Development Companies.
Several years ago, Joe Simone, recognized this trend when he developed the Boyce Thompson Center, an innovative 85,000 square-foot mixed-use center in Yonkers, N.Y. with a consumer-driven retail model for healthcare. The Boyce Thompson Center successfully combined trendy dining destinations and other high-traffic retail with medical practices in a historic building that was adaptively reused.
Simone's concept proved appealing to St. John's Riverside Hospital and the Westmed Medical Group, which became the Boyce Thompson Center's anchor tenants. The commitment from these two medical anchor tenants subsequently attracted ENT Allergy Associates, ColumbiaDoctors, Westchester Gastroenterology, Juvanni Med Spa, Metro Vein, among others.
The adaptive reuse of this historic 1920s botanical research center earned a Westchester Municipal Planning Federation's 2017 urban planning award. The Boyce Thompson Center has become a prototype for future mixed-use healthcare developments.
"The medical move to a retail setting is driven by patients who want an enhanced physical space where there are opportunities to shop, dine, and have access to other personal services such as restaurants, banking and clothing shops," said Joe Simone.
Across the country, there are similar models as owners of outdated and vacant commercial buildings repurpose them for healthcare tenants. Once again, Joe Simone is leading the way. In Harrison, NY, Simone is converting a vacant office building into a pediatric specialty care facility.
ABOUT SIMONE DEVELOPMENT COMPANIES
Simone Development Companies is a fully integrated private real estate investment and development company that acquires and develops healthcare, mixed-use, commercial, industrial, retail and residential properties. Headquartered at the Hutchinson Metro Center, it boasts a portfolio of over seven million square feet throughout the Bronx, Manhattan, Queens, Long Island, Westchester, Orange and Fairfield Counties and New Jersey. With services spanning acquisition, development, construction, finance, asset management, accounting, leasing and property management, Simone Development Companies is set apart by its creatively oriented management team, long-term asset ownership and its pursuit of visionary development.