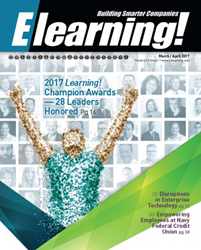 Joe's contributions have helped us position and solidify the learning competencies and delivery modalities needed to move our client's sellers to the 98th performance percentile
Houston, Texas (PRWEB) May 17, 2017
The 2017 Learning! Champion Award honors individuals for exceptional contributions to the learning industry. Elearning! magazine names 28 professionals across six categories for 2017.
"Lifetime Achievement" winners have dedicated their entire lives to learning and have helped thousands of others do the same. Joe's background has spanned many companies where he has served in senior education leadership positions as well as serving as the CEO of several companies in the learning space, most notably Oracle, PeopleSoft, as well as Interwise, Productivity Point International, and now Baker Communications, Inc.
"Joe's contributions to BCI have helped us position and solidify the learning competencies and delivery modalities needed to move our client's sellers to the 98th performance percentile," said Walter Rogers, CEO of Baker Communications and CloudCoaching International. "His work has helped us create a truly unique value proposition for our clientele that takes advantage of our patented education technology in the areas of embedded training, sales methodology, coaching and learning reinforcement."
"We've used some of the research from Bloom on the most effective teaching methodologies to not only help provide a solution path for EdTech to follow, but also to prove the performance achievements in the real world with our clients," said Joe DiDonato. "Before we're done, we hope to even solve the 2-Sigma Problem put forth by Benjamin Bloom, by showing how tutoring can be made a part of every learner's life by the use of advancements in the EdTech space."
Joe also serves as Editor-at-Large for Elearning! Media Group where he continues to influence the world of learning by reporting on the latest and best in the world of enterprise leaning and education technology (EdTech). For more information on the award and Joe DiDonato's achievements, please go to the following Elearning! magazine article: Learning! Champion Awards.
About Baker Communications, Inc.
As one of America's fastest-growing corporate training companies, Baker Communications has helped nearly two million professionals reach maximum performance for over 35 years. Globally recognized companies and government agencies, including ExxonMobil, General Electric and Bank of America depend on Baker Communications to equip their employees with skills to increase market share and produce immediate results. Baker provides customized targeted practice-driven performance improvement solutions that produce rapid, measurable results. Baker Communications' solutions have been utilized and delivered worldwide, throughout Europe, South America, North America, the Middle East, and Asia Pacific. Learn more at http://www.bakercommunications.com.