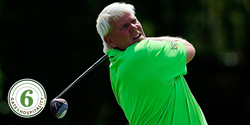 "We are excited to have John Daly as part of our Gate 6 Hospitality event. It will be a great time for any golf fan." -Kyle Kinnett, Spokesman
Indianapolis, Indiana (PRWEB) March 23, 2016
The Bullseye Event Group is will be unveiling Gate 6 Hospitality this year at the Masters are going to be offering Masters hospitality similar to that of the Super Bowl Players Tailgate. The Saturday Night Live event will be a great way to wind down after a day on Augusta National at The Masters, while gearing up for the final 18 on championship Sunday. Featuring a Q & A session with professional golfer John Daly, guests will get the chance to hear exclusive stories and experiences from Daly's time on the PGA Tour.
Daly has created the persona of being one of the PGA's most exciting golfers, primarily known for his initial driving distance off of the tee, earning himself the nickname "Long John." In the 1997 PGA Tour season, Daly became the first ever Tour player to average more than 300 yards per drive over a full season, and continued to do so every year from 1999 to 2008.
He has also commanded the golfing circuit when it comes to golf attire. Daly's official endorsement line, "Loudmouth Golf," has become wildly popular since its beginnings in 2000 and Daly's official use of the brand beginning in 2009. Loudmouth Golf touts themselves as "for those who want to stand out, smile and have fun."
The event will also feature an all-star culinary experience from chefs Aaron May, of LTB Restaurants, as well as local Atlanta native and Cooking Channel star G Garvin! A ticket to the Saturday Night Live with John Daly will feature an all-you-can-eat buffet of foods created exclusively for this event by Aaron May and G Garvin, as well as an open premium bar with top shelf drinks! Guests will also enjoy hospitality lounges lined with tables, couches and other designated seating areas.
Call Bullseye Event Group today at 317-800-3280 for pricing and insider information regarding the 2016 Saturday Night Live event with John Daly, as well as complete Masters Hospitality packages.
About Bullseye Event Group
Bullseye Event Group is the official events and travel partner of the Indianapolis Colts. As a secure, official source for travel, hotel, pre-game parties and tickets, Bullseye Event Group is a direct and dependable source for the Colts VIP Tailgate, Super Bowl packages, the Players Tailgate, the Masters and event tickets, delivering unforgettable experiences to fans. To learn more about Bullseye, visit BullseyeEventGroup.com.