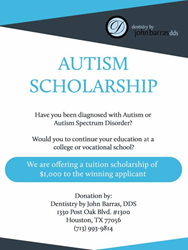 HOUSTON, Texas (PRWEB) December 23, 2020
Houston dentist Dr. John Barras, and his dental practice, Dentistry by John Barras, DDS, are pleased to announce they will be offering a scholarship for those who have been diagnosed with Autism Spectrum Disorder (autism or ASD). This is an educational scholarship in the amount of $1,000, which will be used to offset a portion of the tuition cost for attendance at a college or trade school chosen by the winning applicant. This is the third such scholarship offered by Dr. Barras since 2017 for those diagnosed with ASD.
Autism is a condition that can affect both communication and other aspects of a person's life. Those persons often face challenges, and those challenges may affect their educational activities. The goal of Dr. Barras, the other dentists at the practice, and the entire staff is that by presenting this scholarship opportunity, an individual with autism will be provided with additional impetus to continue his or her schooling, and to move forward and achieve their educational goals.
Eligibility for the scholarship is limited to United States citizens with Autism Spectrum Disorder (DSM-V), and who anticipate enrolling at a college (or junior college) or a trade or vocational school in the near future. Although applicants do not need to be attending or enrolled at a school when they submit their application, the scholarship must be utilized within a year of the award.
Anyone who is interested in either applying for the scholarship, learning more about it or about Dr. Barras' scholarship program, should visit their website. The website provides specific instructions for applying for the scholarship, the time for submission of the application, eligibility requirements, our privacy policy, as well as the process of selecting the winner. All applications, in order to be considered, must be submitted to us on or before January 28, 2022. The winner will be selected and announced not later than February 11, 2022.
All inquiries should be addressed to us, preferably by email, as follows:
Dentistry by John Barras, DDS
1330 Post Oak Blvd. #1300
Houston, TX 77056
(713) 993-9814
scholarshipcontests@gmail.com