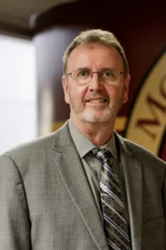 I haven't worked in transitions before, but I raised three successful children as a widow, I managed staff, I worked with thousands of students and I built a career on care and compassion. That's what I'm looking forward to bringing to Caring Transitions of Noblesville. - John Beeker
NOBLESVILLE, Ind. (PRWEB) February 15, 2022
When John Beeker was a high school principal, he helped students, parents and staff through both every-day problems and life-changing challenges. Now he's looking forward to bring his solutions-based approach to education to business with his new senior-focused relocation and estate-clearing company, Caring Transitions of Noblesville.
Caring Transitions is the professional choice for moving, downsizing, clearing an estate and hosting estate sales. Caring Transitions' specially-trained professionals handle every detail of their clients' transition including decluttering, cleanouts, packing, move management, unpacking, resettling into your new home, and both in-home and online estate sales. Caring Transitions of Noblesville serves Noblesville, Westfield, Cicero, Atlanta, Anderson, Sheridan, Arcadia, Frankton, Lapel, Kirklin and the surrounding areas.
"Two years ago, when my brother and I helped my parents move, we both thought there needed to be a company that could help seniors and busy families do exactly what Caring Transitions does – we just didn't know Caring Transitions existed. When I retired from education and starting thinking about what I wanted to do next, that was still in the back of my mind. I started asking people, 'If your mom and dad needed to move, would you do it or hire someone?' I was surprised that so many people said they'd hire someone to help. That helped me see that Caring Transitions was something the community could really use and inspired me to launch my own franchise," Beeker said.
Caring Transitions' services are perfect for managing the many aspects of a senior move. The company also helps busy families with downsizing, rightsizing, and clearing out the home of a loved one who has moved into assisted care or has passed away. All of Caring Transitions' services are customizable, so clients choose the solution that best fits their needs.
Beeker's career has been in education, including his most recent role as a high school principal. He previously worked as a teacher and a coach. Although he always felt passionate about being an educators, he just felt it was time to move on.
"If you're going to be a principal, you really have to love it. You can't just go through the motions. I really enjoyed my job, but in the end, I just didn't have the pep I had before and I felt like it was time to move on, so I retired. I haven't worked in transitions before, but I raised three successful children as a widow, I managed staff, I worked with thousands of students and I built a career on care and compassion. That's what I'm looking forward to bringing to Caring Transitions of Noblesville," Beeker said.
Caring Transitions Noblesville is bonded and insured, and all employees are background checked. For additional information, call 317-674-3924, email JBeeker@CaringTransitions.com or visit http://www.CaringTransitionsNoblesville.com.