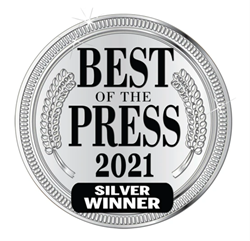 "We are honored to receive the Best of the Press 2021 Silver Award," said Michael Santillo, CEO of JBRC. "Through this wonderful recognition, we promise to continue to spread awareness and provide recovery, hope and healing to help even more people overcome substance use disorders."
MAYS LANDING, N.J. (PRWEB) November 15, 2021
John Brooks Recovery Center (JBRC) receives Silver Award for the Best Drug/Alcohol Recovery Program in Press of Atlantic City's 2021 Best of the Press Readers' Choice Awards.
"We are honored to receive the Best of the Press 2021 Silver Award," said Michael Santillo, CEO of JBRC. "Through this wonderful recognition, we promise to continue to spread awareness and provide recovery, hope and healing to help even more people overcome substance use disorders."
The nonprofit offers a Main Outpatient Recovery Center in Pleasantville, an Outpatient Center in Atlantic City and a Residential Treatment Facility in Mays Landing. "Our goal is to provide a full continuum of care for individuals suffering from substance use disorders regardless of financial circumstance or socio-economic background," said Santillo.
If you or someone you know is struggling with a substance use disorder, please call JBRC today. For Residential Programs – Residential Detox/Withdrawal Management, Short-term Residential or Long-term Residential, please call 609-345-0110. For Outpatient Programs – Opioid Treatment Program, Intensive Outpatient Program or Standard Outpatient Program, please call 609-345-2020, extension 6182, 6180 or 6179.
About John Brooks Recovery Center
Founded in 1969, John Brooks Recovery Center provides quality, individualized treatment services to help individuals overcome substance use disorders. Programs include: Residential, Outpatient, Medication-assisted Recovery, Detox and Inmate Re-entry. To learn more, visit jbrcnj.org or visit them on Facebook @JohnBrooksRecoveryCenter.
About All Roads Recovery Community Center
All Roads Recovery Community Center, the community-based recovery arm of JBRC, helps anyone struggling with addiction navigate their next steps on the journey to recovery. All Roads currently offers a wide variety of Recovery Groups, as well as one-on-one coaching with Certified Peer Recovery Specialists (CPRS). To learn more, visit allroadsrecovery.org, call 609-457-1080 or visit them on Facebook @AllRoadsRCC.