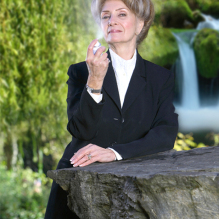 GRANTS PASS, Ore. (PRWEB) July 18, 2019
Date aired: July 15th, 2019
Guest: John Gemmill, CEO Clean Ocean Foundation, Victoria, Australia
Water Life Science® creator and talk radio host Sharon Kleyne welcomes chemical engineer John Gemmill in Australia to her internationally syndicated weekly talk radio program, The Sharon Kleyne Hour Water Life Science®/Nature's Pharma®, The Power of Water® & Your Health sponsored by Nature's Tears® EyeMist® on VoiceAmerica, to talk about saving earth's oceans from becoming bigger and more toxic garbage dumps.
"Why are we using oceans as garbage dumps?" Kleyne wants to know. "Cures for diseases will be found in the water, but we're not taking care of it like we should. Over-evaporation of the water in the solar system and on earth is upsetting the natural rhythm of life on the planet. When you use the ocean as a garbage dump, you change the rhythm and the temperature of the water."
Lifelong surfer, scuba diver and chemical engineer Gemmill agrees with Kleyne. "The rhythm is off," says Gemmill. "We need to develop a more circular economy to bring back the rhythm of the oceans. We must make the oceans green and healthy again." Gemmill also points out that Australia is reaping great benefits from the development of alternative energy and the process of recycling water and sewage for agricultural and general use. Recycling water is essential. Water recycling cannot be overlooked.
"Too many people don't know enough about water, water evaporation and how to live with the rhythm of the earth," says Kleyne. Kleyne explains that over-evaporation of water damages the mirror in the water, which reflects the life of the planet. Kleyne calls for more new water technology and research and a renewed emphasis on finding cures for disease.
Gemmill's Clean Ocean Foundation leads several clean-up and educational initiatives that are raising awareness about water pollution and restoring vast segments of the oceans. Readers can learn more about these initiatives and groundbreaking work by visiting http://www.cleanocean.org.
Gemmill, also an acupuncturist, naturopath and Tai Chi practitioner, describes how in Australia new designers of habitats are 'greening' communities, making them cooler and allowing more communities to grow food. Though his organization to date has mostly focused its efforts in Australia, Gemmill is planning expansion in the years to come, especially to third world countries where ocean pollution is worse than anywhere else.
Kleyne asks everyone to remember that body water vapor, earth's water atmosphere and water in the solar system are all related. Together, they create life, which cannot exist without pure water.
To listen to the program featuring Australian Clean Ocean Foundation CEO John Gemmill and talk radio host and Water Life Science® educator Sharon Kleyne discussing evaporation and the turning of our oceans into toxic garbage dumps that threaten the life of the planet, follow this link: https://www.voiceamerica.com/episode/116160/clean-ocean-clean-health