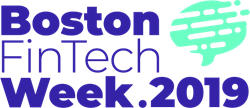 BOSTON (PRWEB) August 28, 2019
FinTech Sandbox, a Boston-based nonprofit that enables technology innovation in financial services, announces today that over 120 organizations and 200 speakers from across the financial services industry will discuss the latest trends shaping finance at its cornerstone event, Boston FinTech Week 2019, on September 9th - 12th. FDIC Chairman Jelena McWilliams and president and CEO of John Hancock, Marianne Harrison, will deliver keynotes and the event will be held at the Federal Reserve Bank of Boston, Babson College, and the Boston Public Library.
Bloomberg Radio will be broadcasting live at the Boston Federal Reserve on Monday, September 9th. Programs on-site include Bloomberg Surveillance (9:00 - 10:00 a.m. ET) and Bloomberg Markets AM (10:00 a.m. - 12:00 p.m. ET) co-hosted by Paul T. Sweeney and Lisa Abramowicz.
"From large financial institutions, start-ups transforming the future of the industry to the key people who are architecting this next cycle of innovation, Boston is bringing together an exciting field of global influencers," said co-founder of FinTech Sandbox and serial entrepreneur, Sarah Biller. "This stellar week of insightful speakers and knowledge-sharing will lead to the generation of actionable ideas, new companies, and high-level partnerships that all extend the reach of financial services and challenge us to think differently about driving more positive financial outcomes."
What has become one of the largest grassroots-led events on the Boston calendar, Boston FinTech Week is now in its third year. The happening is a result of the efforts of a group of fintech entrepreneurs and community leaders whose vision is to deliver insights to fintech and finance professionals through collaboration and events. This year, Boston Fintech Week 2019 broadens its appeal with a wide range of financial services firms and technology companies participating from across the U.S. and globally.
Each day is focused on an area of innovation, including Capital Markets, Insurance, Wealth Management, and Payments & Lending. In addition to the main events, community partners will produce over 30 events throughout the Boston-area.
Additional notable financial leaders speaking include Peter Hazlehurst, Head of Payments and Risk at Uber, Jim Cunha, a Senior Vice President at the Federal Reserve Bank of Boston, Nadine Chakar, Head of Global Markets at State Street, Matt Hatch, Partner and Americas Fintech Leader at Ernst & Young LLP, and Andrew W. Lo, Charles E. and Susan T. Harris Professor at MIT Sloan School of Management.
More information and a full list of events and speakers at Boston FinTech Week 2019 visit: https://bostonfintechweek2019.splashthat.com/
About FinTech Sandbox
FinTech Sandbox is a Boston-based nonprofit that promotes financial technology innovation globally by providing free access to critical data and resources to FinTech entrepreneurs. Sponsors include Amazon Web Services, Fidelity Investments, F-Prime Capital, Franklin Templeton, Intel, State Street, EY and Goodwin Procter. For more information, please visit http://www.FinTechSandbox.org and http://www.twitter.com/FinTechSandbox.