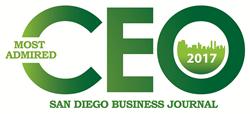 This honor is a true reflection of John's leadership, business acumen, and entrepreneurial spirit.
San Diego, California (PRWEB) May 25, 2017
John D. Klinedinst, Founder and CEO of Klinedinst PC, has been named a finalist for the 2017 Most Admired CEOs by the San Diego Business Journal. This marks the sixth time in the Award's 10-year history that Mr. Klinedinst has been chosen as a finalist.
For the past decade, the Most Admired CEO Award has recognized San Diego leaders for their outstanding professional achievements and their contributions to the community. Finalists are selected for their determination and insight, as well as their track record for success. Most Admired CEOs are also recognized for their ability to inspire and take the lead in driving not only their businesses, but also the local economy.
Founded by Mr. Klinedinst in 1983, the law firm has seen incredible year-over-year growth. Most recently in 2015, Mr. Klinedinst and the firm's shareholders launched the firm's newest office in Seattle, Washington. With its first expansion outside of California, the firm has expanded to serve businesses from five offices across the Western United States.
"This honor is a true reflection of John's leadership, business acumen, and entrepreneurial spirit," noted Art Moreau, Shareholder and Chief Operating Officer. "Not only is he an incredible attorney, but a savvy businessperson. His leadership in the business of law affirms this recognition."
Every year, the San Diego Business Journal conducts an extensive survey of San Diego firms to identify outstanding and highly-revered Chief Executive Officers. After collecting nominations for Most Admired CEOs, the San Diego Business Journal evaluates all submissions and then publishes its list of finalists for the award. Mr. Klinedinst was recognized as a Most Admired CEO finalist in the category for a Privately-Held Company.
Finalists will be honored at the Awards Program and Reception on June 15, 2017 at the Hilton San Diego.
Klinedinst congratulates Mr. Klinedinst on this special honor. To learn more about the San Diego Business Journal Most Admired CEO awards reception, please visit:
http://app.greenrope.com/events/2017ceo
And to learn more about Mr. Klinedinst, please visit:
About Klinedinst
Klinedinst has become the go-to firm for clients across California, across the West, and across the globe. Our litigators, trial attorneys, and transactional lawyers guide clients through every problem, finding solutions at every turn. The firm serves clients from offices in Los Angeles, Sacramento, San Diego, Santa Ana, and Seattle. Whether representing businesses in court, helping negotiate transactions, or handling matters in state, federal, or appellate courts, Klinedinst attorneys help get the job done.