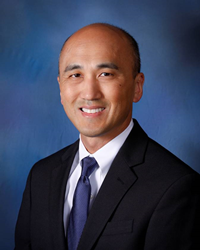 "AHN's commitment to investing in a robust, leading-edge IT strategy and system that drives better healthcare value, outcomes and experiences for patients has been extraordinary," said Dr. Lee.
PITTSBURGH (PRWEB) July 02, 2020
Allegheny Health Network (AHN) today announced that John S. Lee, MD, has been appointed as the organization's new Chief Medical Information Officer (CMIO), effective immediately. Dr. Lee succeeds Robert White, MD, who announced his plans for retirement earlier this year. Dr. White will stay with AHN through the end of the year to help support a seamless transition.
Dr. Lee joins AHN from Edward-Elmhurst Healthcare, based in Naperville, Ill., where he has served as CMIO since 2016. At AHN, Dr. Lee will assume oversight of the network's electronic health record integration and optimization as well as direct all strategies and technological solutions related to the convergence and utilization of telemedicine, population health management and health care analytics. In this capacity, he'll work closely with network and Highmark Health clinical and executive leaders in assessing, designing and implementing clinical support systems that maximize quality, safety, patient engagement, and process improvement.
In 2019, all eight of AHN's acute care hospitals were recognized as Most Wired® providers by the College of Healthcare Information Management Executives (CHIME). Most Wired® is the industry-leading survey and recognition relative to IT implementation, integration and innovation in health systems across the country. AHN is one of the nation's largest health system's with a singular electronic health record (Epic) that integrates all affiliated sites of care, including now 12 hospitals, five large Health + Wellness Pavilions and other outpatient care facilities, and hundreds of physician practices.
In addition to implementing systems such as Epic, Most Wired® designated organizations are those that have deployed technologies and strategies such as population health and cost-of-care analytics, telehealth, and patient portals, to expand access to care and improve clinical and efficiency outcomes.
"Information technology has been the foundation of our success in building a transformative, physician-led and patient-centered model of care for our region," said Cynthia Hundorfean, AHN president. "It takes exceptional talent and visionary leadership to sustain and continuously advance the IT systems we deploy, and we could not have found a more accomplished and qualified physician executive to take those reigns for our organization than Dr. Lee."
An undergraduate of Johns Hopkins University, Dr. Lee earned his medical degree from the Loyola University of Chicago's Stritch School of Medicine, and completed residencies at Cook County Hospital in Chicago. His professional affiliations include fellowship in the Healthcare Information and Management Systems Society (HIMSS).
Last year, Dr. Lee was named the Physician Executive Leader of the Year by both HIMSS and the Association of Medical Directors of Information Systems (AMDIS).
"AHN's commitment to investing in a robust, leading-edge IT strategy and system that drives better healthcare value, outcomes and experiences for patients has been extraordinary," said Dr. Lee. "I am thrilled to have the opportunity to help build upon the program's success and to shape its future course as part of a blended health and wellness enterprise."
About the Allegheny Health Network:
Allegheny Health Network (AHN.org), a Highmark Health company, is an integrated healthcare delivery system serving the greater Western Pennsylvania region. The Network is composed of 12 hospitals, ambulatory surgery centers, Health + Wellness Pavilions, multiple employed physician organizations, home and community based health services, a research institute, and a group purchasing organization. The Network provides patients with access to a complete spectrum of advanced medical services, including nationally recognized programs for primary and emergency care, trauma care, cardiovascular disease, organ transplantation, cancer care, orthopedic surgery, neurology and neurosurgery, women's health, diabetes, autoimmune disease and more. AHN employs approximately 21,000 people, has more than 2,500 physicians on its medical staff and serves as a clinical campus for Drexel University College of Medicine, Temple University School of Medicine, and the Lake Erie College of Osteopathic Medicine.