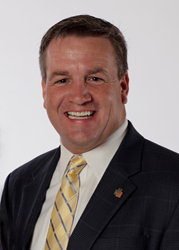 "John Loud has made an unwavering commitment to serving his local community through his leadership and volunteerism" says Joe McAvoy, CEO of Legends Access, "We are honored to present him with our first annual award for passing it forward in a legendary manner."
ATLANTA (PRWEB) January 24, 2019
John Loud has been named the recipient of the Legends Access Community Champion Award. Mr. Loud will be honored on Friday, February 1st at the "Gold Jacket Party for a Purpose" presented by Ray Lewis at the Porsche Experience Center in support of the Ray of Hope Foundation.
"John Loud has made an unwavering commitment to serving his local community through his leadership and volunteerism," says Joe McAvoy, CEO of Legends Access, "We are honored to present him with our first annual award for passing it forward in a legendary manner."
The "Legends Access Community Champion Award" was created to recognize individuals and corporations that are aligned with the community initiatives of Legends Access and co-founder Ray Lewis. Legends Access chooses these recipients based on their significant contributions to their communities in the areas of business leadership, philanthropy and social responsibility.
John Loud is the founder of LOUD Security Systems located in Kennesaw GA which employs over 60 people servicing over 10,000 customers across 30 states. Under Loud's leadership, the company has been recognized as a SDM (Security Distributing and Marketing) Magazine Top 100 Company in the Nation and an Atlanta Journal-Constitution Top Workplace. Loud has been actively involved with the Cobb Chamber of Commerce since 2009 serving on its board of directors and successfully leading many initiatives. The Chamber has recognized and honored Loud's many contributions by naming him the 2020 Chairman of the Chamber where he will further champion important initiatives for Cobb County and the business community.
Loud's positive influence goes beyond the company doors and into the surrounding community. Some of Loud's leadership positions in the business community include serving as past president of the Kennesaw Business Association and the Georgia Electronic Life Safety and Systems Association. Loud is also committed to partnering with organizations such as MUST ministries and LiveSafe to provide resources to those less fortunate in our community and has also been very involved with furthering education in Cobb County serving as a member of Cobb County School District Superintendent Chris Ragsdale's Business and Community Advisory Committee. Loud is the Co-Founder of Good for Cobb and Cobb Home of the Braves. Loud is currently serving on the Board of Trustees for the Earl and Rachel Smith Strand Theatre, is the Vice Chair of the Board of Directors for the Marietta College and Career Academy and on the Board of Directors for ServisFirst Bank.
The event will also honor the 2018 NFL Hall of Fame class and be attended by over 100 celebrities including Hall of Famers Ray Lewis, Deion Sanders, Charles Haley, Eddie George, Michael Irvin, Lawrence Taylor, Andre Reed, Jerome Bettis and Brian Dawkins.
About Legends Access:
Legends Access is a world class sports marketing firm that specializes in connecting sports and entertainment legends with iconic brands and impactful social initiatives through corporate partnerships, content and technology.