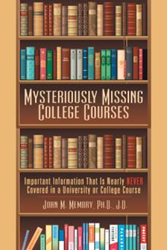 COLUMBIA, S.C. (PRWEB) February 20, 2019
John M. Memory, Ph.D., J.D., is the author of a new book, "Mysteriously Missing College Courses: Important Information That Is Nearly Never Covered in a University or College Course" (published by Archway Publishing). Memory has concluded that the subject matter of each of his book's 36 chapters is not covered in undergraduate courses of a major university in the U.S. Southeast. Memory contends these conclusions support conclusions in a recent book about the adequacy of undergraduate curriculum — "The Coddling of the American Mind" by Greg Lukianoff and Jonathon Haidt (2018).
"Some readers of my book will focus on adequacy of course curriculum and content," says Memory. "Probably more readers will be especially interested in the subject content of several of the 36 chapters, all of which I believe are important, interesting, and worthy of being taught in colleges and universities."
Seventeen of the chapters concern health and cover information that Memory believes nearly all conventional medical doctors do not have the ability and/or willingness to communicate to patients. For example, chapter six concerns prevention of hardening of the arteries with a non-statin routine including nutritional supplements and exercise that has worked extremely well for the author since 1982. Ten more chapters concern self-help topics that can provide crucially helpful information especially for young adults. The remaining nine chapters cover often untaught information about subjects, including multi-disciplinary futurology, sociobiology (a sub-discipline of biology), origins of religion, and the dangers of rampant ethnocentrism and xenophobia.
The book is available for purchase at: https://www.amazon.com/Mysteriously-Missing-College-Courses-Information/dp/1480865656.
"Mysteriously Missing College Courses"
By John M. Memory, Ph.D., J.D.
Hardcover | 6 x 9 in | 522 pages | ISBN 9781480865648
Softcover | 6 x 9 in | 522 pages | ISBN 9781480865655
E-Book | 522 pages | ISBN 9781480865662
Available at Amazon and Barnes & Noble
About the Author
John M. Memory, Ph.D., J.D. holds a Bachelor of Arts in history and a Juris Doctor from Wake Forest University and a doctorate in criminology from Florida State University. With five years of Army active duty and 17 years of Army Reserve duty, he is retired as an Army Reserve JAG LTC. Retired also as a criminal justice professor, Memory lives in Columbia, South Carolina.
Simon & Schuster, a company with nearly ninety years of publishing experience, has teamed up with Author Solutions, LLC, the leading self-publishing company worldwide, to create Archway Publishing. With unique resources to support books of all kind, Archway Publishing offers a specialized approach to help every author reach his or her desired audience. For more information, visit http://www.archwaypublishing.com or call 888-242-5904.