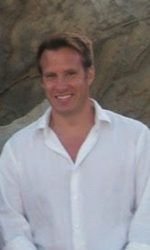 It's a very exciting and dynamic time in the financial advice and wealth management industry with technology focused on improving the customer experience giving them more choice, lower pricing, higher levels of transparency, and ultimately better outcomes. Pefin is uniquely positioned to bring very
NEW YORK (PRWEB) August 09, 2018
Pefin, the world's first artificial intelligence (AI) financial advisor, welcomes John R. Crittenden, CAIA, as Director of Business Development and Investment Strategy.
Crittenden will guide Pefin through white label and customized partnerships with banks, RIAs, wealth management firms, asset managers, and other opportunities reporting to Pefin CEO, Catherine Flax. In addition, he'll be working internally on investment product strategy solutions led by Viju Joseph, Pefin's president and CIO.
Crittenden is an entrepreneur with broad experience across asset management, sales and marketing, consumer financial brands, and digital wealth management platforms. He also founded, Mondigi, a startup which provides a consumer portal to all things digital finance where individuals can search, learn, compare, and find the right solution for their financial situation. Prior to Mondigi, he was one of the earliest executives as Director of Institutional Services at Acorns, one of the first and most successful robo-advisor platforms focused on wealth management, where he also served as Chair of the Investment Policy Committee. His extensive background includes HNW retail and Institutional asset management roles at Morgan Stanley, Proctor Investment Managers, and Crowell, Weedon/D.A. Davidson. He is a Chartered Alternative Investment Analyst (CAIA), and has a Certificate in Wealth Management from NYIF.
Crittenden explains, "It's a very exciting and dynamic time in the financial advice and wealth management industry with technology focused on improving the customer experience giving them more choice, lower pricing, higher levels of transparency, and ultimately better outcomes. Pefin is uniquely positioned to bring very powerful solutions to market across the spectrum from banks to asset managers to RIAs, and the employee benefits channel as well. They have an incredible team and I look forward to contributing to their growth and bring a world class financial advice and wealth management experience to millions. "
Pefin CEO, Catherine Flax, is elated to have Crittenden on board, "John's vast experience and commercial insights focused on wealth management and the digital advice space are second to none. We are thrilled to have John join the Pefin team!"
About Pefin
Pefin's proprietary, AI technology analyzes all of the data that describes an individual's financial life, and incorporates markets, tax and regulatory details, to craft personalized and affordable financial advice, available 24/7.
Established in 2011, Pefin, is a financial technology company based in New York City. Pefin, which stands for PErsonal Financial INtelligence, uses Artificial Intelligence (AI) to provide fiduciary financial advice at the fraction of a cost of a traditional financial advisor. Pefin's proprietary, patent-pending AI technology factors individual financial situations and personal financial priorities in addition to markets and regulations to craft highly tailored financial advice, available 24/7. Pefin Advisors, LLC is an SEC Registered Investment Advisor, under Section 203(c) of the Investment Adviser Act of 1940.
For more information, visit http://www.pefin.com
Request free press access to Pefin: https://www.pefin.com/press