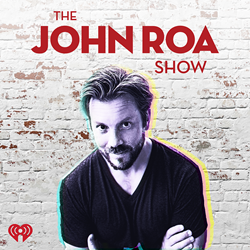 My hope is to create a candid dialogue around the emotional and psychological toll the quest for 'success' takes.
NEW YORK (PRWEB) July 06, 2020
Acclaimed entrepreneur, technologist, philanthropist, business investor, and writer, John Roa, announced today the debut of "The John Roa Show" a new no-holds-barred weekly podcast series that explores the rollercoaster of life and success through nuanced and vulnerable conversations with creative leaders, company founders, and celebrities on iHeartRadio. New episodes will be available each Monday and are distributed by The iHeartPodcast Network. Listen now here.
Broadcasting directly from his New York City apartment, each Monday, Roa will participate in revealing and insightful discussions with leaders from all walks of life. Upcoming guests include Grammy-winning jazz trumpeter, songwriter, and producer Keyon Harrold; Melissa Ben-Ishay of Baked by Melissa; and more. He will also be accompanied by a recurring group of personal friends such as New York-based writer and comedian Janelle Draper. Together they will share funny, poignant, embarrassing, and always honest anecdotes from their own business and personal lives. In the premiere episode, Roa finds himself in the hot seat, being interviewed by renowned podcast personality and Wall Street attorney Jordan Harbinger.
A self-made serial founder and self-professed "imposter," Roa has personally created, lost, and sold nearly 30 start-ups to date. At the age of 31, Salesforce fully acquired his tech company, ÄKTA. This accomplishment not only made him a millionaire many times over but should have been a dream come true, had the entrepreneurial journey not almost secretly killed him. After a five-year professional hiatus, Roa is now back and ready to tell all, seeking to debunk the myths of success and humanize the people responsible for some of the world's biggest brands, projects, and cultural moments. "At one time, I was the quintessential, aspirational 27-year-old CEO of a fast-growing tech company, but in my private life, I was silently crashing from the stress and pressure. I've since come to find that my experience is not unique to entrepreneurs," said Roa. "My hope is to create a candid dialogue around the emotional and psychological toll the quest for 'success' takes. I cannot thank iHeartRadio enough for giving me such an extraordinary platform with which to facilitate what I hope will become an inspiring and honest discourse."
Roa's new show comes on the heels of the popular limited podcast series, "Leading From Home," which he launched at the height of the pandemic in April. Throughout the limited podcast series, he speaks with entrepreneurs, leaders and celebrities like Rams Head Coach, Sean McVay; HGTV's Alison Victoria; The Smashing Pumpkins,' Jimmy Chamberlin; SXSW co-founder, Louis Black; and others about the impact of COVID-19 on their industries. Listeners were given a rare, personal glimpse into the lives of those who rarely share about them.
Roa is also the author of the forthcoming memoir A Practical Way to Get Rich... and Die Trying (Viking, September 8th), which Kirkus has already dubbed "essential reading" "for young entrepreneurs seeking to win the glittering—but personally destructive—startup game."
Fans can go to iHeart.com/apps to download and listen to "The John Roa Show" on all their favorite devices — including smart speakers, digital auto dashes, tablets, wearables, smartphones, virtual assistants, televisions, gaming consoles and more. "The John Roa Show" is an iHeartRadio Original Podcast and is available everywhere podcasts are heard. To contact the show, listeners can email podcast@roa.com for more information or visit https://www.roa.com.
About John Roa
John Roa is an entrepreneur, technologist, philanthropist, angel investor, and podcast host. He started programming at age 11, and over the next twenty years, founded and ran multiple technology companies, including design agency ÄKTA, which he sold to Salesforce in 2015. John is a passionate volunteer activist, animal advocate, and philanthropist, having been a partner and donor to dozens of non-profit organizations as well as founding and running his charitable organization, Digital Hope. An avid and adventurous world-traveler, John has found his way to about 60 countries, whether by backpack or briefcase. This included his residency in Mykonos, Greece, where he moved after selling his company and served as the space in which to write this memoir.
Now back at home, he hosts "The John Roa Show," a podcast series where he chats with creative leaders, entrepreneurs, and celebrities about life, success, and the wild rollercoaster ride that comes along with both. He is also a public speaker on topics ranging from entrepreneurship to mental health. John currently lives in Manhattan.