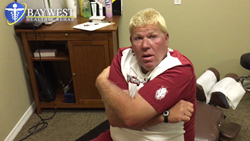 Going the extra yard.
New Port Richey, Florida (PRWEB) May 09, 2017
A few weeks back, John contacted Scott Coletti of Baywest Health & Rehab, Chiropractor in the Tampa FL region to help him get out of spine and hip pain. He was looking for a little more physical work up that he didn't feel he was getting. He respected his age and condition but was adamant that he get some help to trampoline him back into better playing shape and back to his winning ways.
Dr. Coletti evaluated Mr. Daly and performed a Manipuflex(TM) on him as well as treated him with Cold Laser, utilizing Cold Laser Protocols(TM). A video of this procedure has already been widely viewed on the company's YouTube channel.
Cold Laser Protocols(TM) and the Manipuflex(TM) procedures are becoming a strong resource to not only athletes but to the active population as a whole who are suffering from annoying Arthritis type pains, both acute and chronic in order to lower inflammation and regenerate tissue throughout the body.
Although cold laser therapy has been around several decades, it's only recently that top athletes, professional and top college organizations are discovering its healing properties, and helping to get players ready for competition more efficiently and effectively.
Daly himself had admitted that he didn't expect success to come so quickly when he said, "a win is a win, man. And I didn't think it would come this soon."
Dr. Coletti has been practicing for over 18 years and has always been searching for better ways to treat a patient complaining of joint pain and discomfort. This helped him find new ways to do things that frankly others were already doing but without a twist, or as he says, "Going the extra yard!"
The Cold Laser Protocols(TM) have been primarily developed to assist physicians in getting people out of pain and for them to lead a more pain free life, but it is also having significant success in helping top sports pros to increase their own healing speeds and enabling them to get back to winning ways in their own arenas. There are intentions to take these lasers and specifically the protocols through an online App to the marketplace for your everyday weekend warriors.
Baywest Health & Rehab and Cold Laser Protocols are delighted with John's success and are proud to have played even a small part in his progress.
About the author
Dr Scott Coletti DC is a doctor of chiropractic and has been practicing at his clinic, Baywest Health & Rehab in New Port Richey, Florida for over 18 years. He helps people experiencing all kinds of joint pain, using techniques such as cold laser therapy and his newly trademark Manipuflex(TM) procedure. You can visit his main clinic website http://www.baywesthealth.com to learn more, and his new company website for Cold Laser Protocols here, https://coldlaserprotocols.com