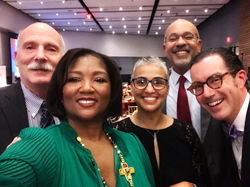 WASHINGTON (PRWEB) November 17, 2021
Global law firm Greenberg Traurig, LLP's Johnine P. Barnes, Shareholder and Chair of the Washington, D.C. Labor & Employment Practice Group, was recently appointed to the Board of the University of the District of Columbia David A. Clarke School of Law (UDC Law) Foundation (the "Foundation").
According to its website,, the Foundation's mission is to promote excellence in public legal education in the District of Columbia, specifically through provision of financial support for the students, faculty, and programs of the District's public law school, UDC Law. UDC Law is recognized as one of the nation's most diverse law schools, is the only public law school in the nation's capital, and one of just six HBCU law schools in the country.
Barnes, located in Greenberg Traurig's Washington, D.C. office, is nationally recognized by the Legal 500 U.S. Guide for her counselling and compliance practice regarding employment laws. She is also recognized by Lawdragon 500 as Leading Lawyer in America and as a Leading U.S. Corporate Employment Lawyer. She is experienced in litigating and defending employment claims of harassment, retaliation, discrimination, wrongful discharge, and breach of contract, as well as business litigation matters.
About Greenberg Traurig's Washington, D.C. Office: Home to a multidisciplinary team of lawyers and governmental affairs professionals, the members of Greenberg Traurig's Washington, D.C. office help clients of all sizes navigate the federal government. The team of lawyers and lobbyists provide strategic corporate, regulatory, and litigation assistance on Capitol Hill, in the board room and before administrative agencies, and federal and state trial and appellate courts. The D.C. office's practice areas include governmental affairs; federal procurement and government contracts; global trade and investment; corporate, securities and financial services; health care and FDA; antitrust; energy; environment; real estate and hospitality; telecommunications; international arbitration; intellectual property; public finance; and employment law. Greenberg Traurig attracts clients from an array of sectors – from federal defense to energy, telecommunications to health care – and represents them before the U.S. Congress, federal agencies and regulatory bodies, and the entire U.S. court system.
About Greenberg Traurig: Greenberg Traurig, LLP (GT) has approximately 2,300 attorneys in 40 locations in the United States, Latin America, Europe, Asia, and the Middle East. GT has been recognized for its philanthropic giving, diversity, and innovation, and is consistently among the largest firms in the U.S. on the Law360 400 and among the Top 25 on the Am Law Global 100. The firm is net carbon neutral with respect to its office energy usage and Mansfield Rule 4.0 Plus Certified. Web: http://www.gtlaw.com