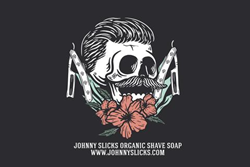 Together we can help St. Jude change the world.
HOLLY RIDGE, N.C. (PRWEB) October 03, 2020
If you enjoy a good shave and want to do some good in the world, Starting October 1st, 10% of all profits from our new Organic Shave Soap will be donated by the Johnny Slicks #SHAVETOBER campaign for St. Jude Children's Hospital. Johnny Slicks shave soap is especially great for frequent shavers, because you can keep your skin baby-bottom smooth, avoiding the razor burn and discomfort caused by lower-quality shave creams.
Starting November 1st, 10% of all profits from each of our beard products, the Beard Oil and Beard Wash, will go toward our Johnny Slicks #NOSHAVENOVEMBER campaign for St. Jude Children's Hospital. These products make great gifts or stocking stuffers since the holidays are just around the corner!
When we hit our $10,000 goal, co-founder Nick Koumalatsos will completely shave his beard on video across our social media channels. Nick's beard has been growing long and strong for years now. Nick has not shaved his beard since he left Marine Special Operations in 2012. Our bearded buddies know what it's like to go from full-beard to fresh face, so it's a big deal for Nick to offer to do this for charity.
Click here to be taken directly to our page on the St. Jude's website if you only want to donate.
Johnny Slicks was formed when Marine John Raushi realized that the ingredients in the hair products he was modeling were causing his hair to thin prematurely. This pushed him to not only switch to organic hair care but to create his own hair care brand. He partnered with Marine Nick Koumalatsos, and together they figured out the Johnny Slicks business plan, providing their specialty products for an affordable price in the e-commerce space. They started with 3 products and have since grown to have 38 (and counting!), so it's safe to say that their line of organic grooming products is here to stay.
"Now that we've grown, we want to share the love and give back to a cause that's near and dear to our hearts. As owners of an organic grooming company, we're very conscious of keeping our bodies and our minds healthy, and as such, want to support a cause that has a similar mindset. We landed on St. Jude Children's Hospital, as it exists to support the health and well-being of children with cancer and their families." - Johnny Slicks
Link to the campaign video: https://www.youtube.com/watch?v=5iR8x4ZkOjk&feature=youtu.be.