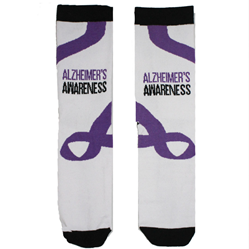 I wanted to make these socks for my grandmother, Mamo. She has Alzheimer's and I love her.
MELVILLE, N.Y. (PRWEB) January 17, 2019
Today, John's Crazy Socks will introduce "Forget Me Not" Socks: Alzheimer's Awareness Socks. These socks honor and celebrate those living with Alzheimer's Disease as well as the loved ones who care for them. The socks will raise money for research into Alzheimer's.
John Cronin, co-founder and inspiration for John's Crazy Socks, says, "I wanted to make these socks for my grandmother, Mamo. She has Alzheimer's and I love her."
Co-founder Mark X. Cronin explains, "This is very personal for us. John and I have seen the impact that Alzheimer's has had on our family. It affects not only the patient, but the entire family. And John has Down syndrome and we are all too aware of the connection between Down syndrome and Alzheimer's. Most of the 200,000 people with Down syndrome in the United States and many of the 5 million worldwide will develop Alzheimer's, many as early as their 40s."
These beautiful socks feature a purple ribbon and the phrase "Forget Me Not." John's Crazy Socks will donate $2 from every pair sold to the LuMind Research Down Syndrome Foundation, which is funding cutting-edge research and clinical trials for Alzheimer's and Down syndrome.
"We want these socks to raise awareness about the impact of Alzheimer's Disease on family and to offer comfort to patients and care givers", says Mark Cronin. "When we received the first delivery of socks, my wife gave some to the care givers at the facility where my mother-in-law lives as a way of saying thank you and they loved the socks."
Hampus Hillerstrom, the CEO of LuMind RDS Foundation and parent of 5-year-old Oskar with Down syndrome: "We have deep gratitude to John and Mark Cronin for their support of the important work our foundation does to tackle the early onset of Alzheimer's that occurs 20-30 years earlier in Down syndrome than in the general population. Their drive, entrepreneurial spirit and inclusion of people with differing abilities in their business is an inspiration to us all and we are proud to partner with John's Crazy Socks".
The Connection between Down Syndrome and Alzheimer's Disease
People with Down syndrome have an extra 21st chromosome. That same chromosome carries the APP gene which produces a specific protein called amyloid precursor protein (APP). Too much APP protein leads to a buildup of protein clumps called beta-amyloid plaques in the brain and those plaques are a hallmark of Alzheimer' Disease.
LuMind RDS-supported and other research suggests that more than 75 percent of those with Down syndrome age 65 and older have Alzheimer's disease, nearly six times the percentage of people in this age group who do not have Down syndrome. As people with Down syndrome live longer thanks to improvements in medical treatment and quality of life, the incidence of dementia is likely to increase.
About John's Crazy Socks
John's Crazy Socks grew from a dream of John Cronin, a young entrepreneur who happens to have Down syndrome, when he told his Dad, "we should sell crazy socks." Opening in December 2016, the two have built a social enterprise with a simple mission: spreading happiness. Every day, they show what is possible by hiring people with differing abilities – who make up more than half their workforce.
Giving Back is an essential part of the company's mission. They pledge 5 percent of company profits to the Special Olympics and have created a series of charity and awareness socks that raise money for charity partners like the National Down Syndrome Society, the Autism Society of America and the Williams Syndrome Association. In their first two years, they have raised over $200,000 for their charity partners.
You can learn more about John's Crazy Socks by visiting our website (johnscrazysocks.com) and our Facebook page. Learn more about John through his YouTube videos. You can also contact us via email at service(at)johnscrazysocks.com or call 631-760-5625.
About The LuMind Research Down Syndrome Foundation
Established in 2004, LuMind Research Down Syndrome Foundation (LuMind RDS) has awarded more than $18M in research grants to fund groundbreaking projects at top academic institutions and biopharmaceutical companies leading to more than $50M in concurrent funding from the NIH, industry and other sources. LuMind RDS-supported research has led to the discovery of 10 therapeutic targets, the development of 3 Down syndrome-specific assessment scales, 15 interventional and observational clinical trials with more than 1300 participants and the initiation of several consortia. LuMind RDS is dedicated to enable independence and enrich community engagement for all individuals with Down syndrome and funds leading research into Alzheimer's and Down syndrome.
You can learn more about LuMind RDS at their website or you can contact:
Marly Chevrette
LuMind Research Down Syndrome Foundation
mchevrette(at)lumindrds.org
781-825-1303