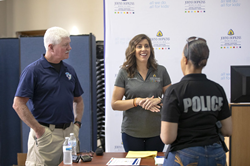 This training program will help officers recognize the signs of autism spectrum disorder and teach ways to successfully diffuse crisis situations
ST PETERSBURG, Fla. (PRWEB) October 24, 2019
Johns Hopkins All Children's Hospital launched a unique training program to help law enforcement officers better respond to emergency events involving individuals on the autism spectrum. The day-long training features a classroom session and hands-on simulation involving trained medical actors. With an estimated 1 in 59 children diagnosed with autism spectrum disorder, the goal of the training program is to help officers recognize when individuals may be presenting with behaviors commonly associated with autism spectrum disorder (ASD).
"There have been so many incidents recently where law enforcement officers are unaware of the social communications deficits and restricted, repetitive behaviors commonly associated with ASD and these individuals are mistakenly viewed as a danger to themselves or others," said Lauren Gardner, Ph.D., administrative director of the Autism Program and psychology internship training director at Johns Hopkins All Children's. "This training program will help officers recognize the signs of autism spectrum disorder and teach ways to successfully diffuse crisis situations involving these individuals that might otherwise result in arrest or Baker Act."
The simulation piece of the interactive training course allows officers to practice the skills they learn when responding to calls involving individuals with ASD. The simulation scenarios include a variety of incidents similar to those they are likely to encounter in their profession.
"The simulation component is what makes this training unique and we're glad to have a program to help officers learn hands on skills in a safe environment where they can make mistakes and learn from them so they have a better response in the field," said Jennifer Arnold, M.D., medical director for the Center for Medical Simulation and Innovative Education at Johns Hopkins All Children's.
The program is funded by a $95,000 grant from the Cigna Foundation and is free for law enforcement attendees. The hospital offers the training session on its St. Petersburg campus every other month.
Learn more about the program and view a list dates for upcoming training sessions.
About Johns Hopkins All Children's Hospital
Johns Hopkins All Children's Hospital in St. Petersburg is a leader in children's health care, combining a legacy of compassionate care focused solely on children since 1926 with the innovation and experience of one of the world's leading health care systems. The 259-bed teaching hospital, stands at the forefront of discovery, leading innovative research to cure and prevent childhood diseases while training the next generation of pediatric experts. With a network of Johns Hopkins All Children's Outpatient Care centers and collaborative care provided by All Children's Specialty Physicians at regional hospitals, Johns Hopkins All Children's brings care closer to home. Johns Hopkins All Children's Hospital consistently keeps the patient and family at the center of care while continuing to expand its mission in treatment, research, education and advocacy. For more information, visit HopkinsAllChildrens.org.