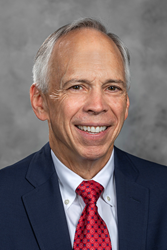 Dr. Baker will help us look at all aspects of care for kids, specifically focusing on resources needed and how our health system can collaborate with others to help improve health conditions
ST. PETERSBURG, Fla. (PRWEB) August 10, 2018
Johns Hopkins All Children's Hospital will make a broader commitment to ensuring the health and wellness of children in the region by utilizing a population health perspective on care. At its core, this perspective focuses on ways to improve health outcomes of a population by ensuring families are being treated at the right facility or setting at the right cost. Mark Douglas "Doug" Baker, M.D., will focus on this initiative and joins Johns Hopkins All Children's as chief of population health and assistant dean for Johns Hopkins All Children's faculty.
"We are focused on value over volume and want to enhance the kind of care we deliver to our families," said Jonathan Ellen, M.D., president and vice dean at Johns Hopkins All Children's Hospital. "We already have multiple venues of care throughout our outpatient care centers and across the region at affiliate hospitals. We're also working with government agencies, lawmakers and other community entities. Now, Dr. Baker will help us look at all aspects of care for kids, specifically focusing on resources needed and how our health system can collaborate with others to help improve health conditions, such as asthma and diabetes, that affect large populations of children in our community and beyond."
Dr. Baker is a professor of pediatrics for the Johns Hopkins University School of Medicine and recognized internationally for his research into the management of fever in infants. Before transferring to Johns Hopkins All Children's, he served as director of pediatric emergency medicine and vice chair of community outreach at Johns Hopkins Children's Center in Baltimore. Dr. Baker earned his medical degree at Temple University School of Medicine and completed his pediatric residency as chief resident at Children's National Medical Center. He trained in neonatology at the Milton Hershey Medical Center and in pediatric emergency medicine at Children's Hospital Boston.
Learn more about population health at Johns Hopkins All Children's.
About Johns Hopkins All Children's Hospital
Johns Hopkins All Children's Hospital in St. Petersburg is a leader in children's health care, combining a legacy of compassionate care focused solely on children since 1926 with the innovation and experience of one of the world's leading health care systems. The 259-bed teaching hospital, ranked as a U.S. News & World Report Best Children's Hospital, stands at the forefront of discovery, leading innovative research to cure and prevent childhood diseases while training the next generation of pediatric experts. With a network of Johns Hopkins All Children's Outpatient Care centers and collaborative care provided by All Children's Specialty Physicians at regional hospitals, Johns Hopkins All Children's brings care closer to home. Johns Hopkins All Children's Hospital consistently keeps the patient and family at the center of care while continuing to expand its mission in treatment, research, education and advocacy. For more information, visit HopkinsAllChildrens.org.