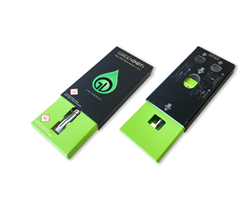 We are honored that the Paperboard Packaging Council recognized EPIK LOK™ as a groundbreaking solution in child-resistant packaging offerings
NILES, Ill. (PRWEB) November 29, 2018
Hosted annually by the North American Paperboard Packaging Association, the Paperboard Packaging Competition is the premier competition for carton manufacturers involved in the concept, design, print, performance, and shelf appeal of paperboard packaging. This year, JohnsByrne was recognized for leading innovation in the print and packaging industry with its revolutionary child-resistant packaging solution. The entry, a child-resistant vape pen cartridge package for Green Dot, a leading cannabis cultivation and extraction company, earned recognition for the its child-resistant (CR) features.
As marijuana continues to become increasingly legal in the U.S., the need for child-resistant packaging solutions continues to be of critical importance to companies producing cannabis products. But in addition to safety requirements, companies in this emerging market need to work on brand distinction. JohnsByrne was faced with the challenge of creating an aesthetically appealing package that ensured CR functionality while creating a distinct brand look for Green Dot.
"When working with companies in competitive and regulated markets, ensuring industry compliance is paramount. But that's not all. Marrying compliant features with aesthetics, functionality and a brand's unique image is the ultimate challenge," shared Pate Gustafson, Partner/Executive VP, JohnsByrne.
The Green Dot Labs Full Spectrum Extract Pen carton incorporates JohnsByrne's latest packaging innovation, EPIK LOK™. Featuring a dual button opening and closing mechanism, the packaging design makes the contents secure from children but accessible for older adults. A slide-out tray that cannot be fully removed and requires that the user return it to its original locked position, adds an additional safety component to the packaging design. The packaging also uses concealed glue flaps and secondary larger flaps to make tearing nearly impossible. This package is completely resistant to biting, chewing, and saliva making it an ideal CR packaging solution. The carton also incorporates contrasting soft-touch lamination and gloss UV to create an eye-catching aesthetic.
"We are honored that the Paperboard Packaging Council recognized EPIK LOK™ as a groundbreaking solution in child-resistant packaging offerings," added Gustafson. "However, our main goal was to create a unique design to help Green Dot establish itself in the market. Combining our one-of-a-kind CR solution with exceptional print effects and finishes is exactly what we do every day," added Gustafson.
To learn more about JohnsByrne's packaging capabilities or their innovative EPIK LOK™ child-resistant packaging solution, visit their website at http://www.johnsbyrne.com.
About JohnsByrne
Since 1959, JohnsByrne has been providing superior custom packaging and print solutions to clients all over the U.S. Throughout the years, they've delivered innovative, award-winning packaging solutions to industries from Health & Beauty to Electronics. JohnsByrne specializes in folding carton, specialty packaging, point-of-sale, and high impact direct mail solutions. To learn more about how they're "pressing the limits" visit http://www.JohnsByrne.com.