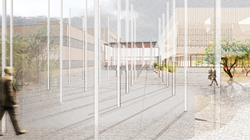 PHOENIX (PRWEB) October 06, 2020
Johnson Carlier, an Arizona-grown full-service solution building partner, breaks ground on its latest project, the Southeast Justice Courts and Adult Probation for Maricopa Court. Located at 222 E. Javelina Dr. in Mesa, the 109,000 square-foot facility will triple the amount of space of the existing building and allow for additional operations, administrative support, and adult probation space.
"We are excited to partner with the County on this first-class facility and look forward to expanding our growing resume within the public sector. The project demonstrates a commitment to the judges, jurors and public-serving communities and we are proud to be part of the team," said Tom Harrison, Senior Vice President, Johnson Carlier.
The two-story, brick facade was designed by Gould Evans and includes a defensive tactics training area and four mirror-image courtrooms that accommodate clerks' offices, judge's quarters, hearing rooms, and conference rooms. The $27M project has an anticipated completion date for early 2022.
Johnson Carlier currently has three other notable municipal projects underway including the Mohave County Law and Justice Courts, the Pinal County Office Complex, and the Yavapai County Parking Garage.
For more information on Johnson Carlier, please visit http://www.johnsoncarlier.com/.
About Johnson Carlier
Johnson Carlier is an Arizona grown full-service solution building partner that is part of the Big-D Family of Companies providing construction management, design/build and CMAR services throughout the southwest. Headquartered in Tempe, Johnson Carlier brings an elite level of building sophistication and delivering laser-focused execution to every client, partner, and project and does so by delivering exceptional service and nimble, responsive solutions. For more information, please visit http://www.johnsoncarlier.com/.
About Big-D Family of Companies
As one of the largest construction organizations in the country with revenues exceeding $2 billion, Big-D's family of companies includes more than 1,300 associates and 50 years of experience providing Design-Build, General Contracting and Construction Management services to customers from a wide variety of industries. Regional areas of excellence are located in Salt Lake City, Ogden, Lindon and Park City, Utah; Pleasanton, California; Minneapolis, Minnesota; Jackson Hole, Wyoming; Las Vegas, Nevada; Tempe, Arizona and Boise, Idaho. For more information, please visit http://www.big-d.com.