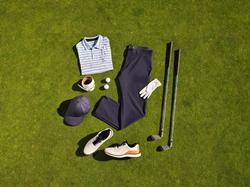 NEW YORK (PRWEB) September 28, 2020
Sports of all kinds have taken a big hit during the ongoing COVID-19 pandemic, but one sport -- golf -- is growing in popularity.
Golf has become more popular during the pandemic. It's a nearly perfect social distancing sport, since it is easy for players to remain six feet apart. Plus, the game is played in the great outdoors.
So, whether someone is a seasoned player or weekend hacker they must ask themselves…how do I look stylish playing golf? Why not turn to Johnston & Murphy.
Having once dominated the golf industry and sponsored the great Arnold Palmer, Johnston & Murphy has returned to the sport with a hybrid shoe and accompanying apparel collection that will help you approach golf in a modern way – home or office to the greens.
The shoes from Johnston & Murphy are instantly comfortable -- made with soft premium leather, a neoprene stretch collar that secures the foot in place and they are fully waterproof. Johnston & Murphy has their own Smart Degree Technology which is temperature-control technology that cools your feet down when it's hot or provides warmth when cold.
Johnston & Murphy has launched a small accompanying apparel collection that consists of polos, pants, shorts, and jackets to complement the shoes. The clothes have the same performance aspects of the footwear – they are comfortable, they perform well and look great - they are breathable, moisture wicking, wrinkle resistant and most importantly they are made of really stretchable fabrics that move with you as you play.
For more information on Johnston & Murphy's golf collection go to:
https://www.johnstonmurphy.com or visit any retail store nationwide.
About YourUpdateTV:
YourUpdateTV is a social media video portal for organizations to share their content, produced by award-winning video communications firm.