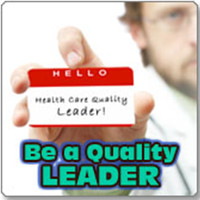 "Never Stop your Quest for Excellence"
PORT RICHEY, Fla. (PRWEB) October 16, 2020
Professional Membership with the AMERICAN BOARD OF QUALITY ASSURANCE AND UTILIZATION REVIEW PHYSICIANS® (ABQAURP) was established for health care professionals who are devoted to the concepts and objectives outlined in ABQAURP's Mission Statement. Many choose to utilize this membership as a pathway to HCQM Certification, taking advantage of educational opportunities while preparing for the certification exam.
Professional Membership with ABQAURP strengthens your pursuit of excellence in health care quality management and patient safety! ABQAURP's education, live conferences, networking, Career Center, and Health Care Quality and Management (HCQM) Certification provide the foundation and continuing education to stay on top of today's ever-changing health care landscape.
Benefits include discounted registration fees for the Certification Exam, live conferences, and all ACCME-accredited online continuing medical education courses. The education credits earned for these programs may be applied toward eligibility for the certification exam. Professional members are also listed in ABQAURP's online directory and have unlimited access to the Member's only section of the website. Professional members can take advantage of employment opportunities through ABQAURP's participating health care placement companies and prospective networking at continuing education conferences.
CME / CE Spotlight Benefit
As an additional benefit, Professional Members now have access to ABQAURP's CME/CE Spotlight which offers health care quality and management online courses from our course catalog for free!
The latest spotlight course was just released: Intro to Digital Health
Digital Health, also known as telemedicine, has evolved over the last forty years. The 2020 COVID-19 pandemic has thrust many health care providers into this technology without fully understanding the different terminology and its place in today's medicine. The Intro to Digital Health multimedia online course is provided in two parts: it begins with a thirty-minute video and continues on with PDF reading materials. The course seeks to clarify digital health terminology, initiatives, and outlines how health care professionals can incorporate various aspects of this technology into daily practice.
At the conclusion of this activity, attendees should be able to:

Describe the eight primary Digital Health modalities and the associated technology
Recognize how the Activated patient achieves better outcomes at less cost
Evaluate how barriers to Digital Health implementation can be quickly resolved
Demonstrate ways to incorporate Digital Health components into their practice to safely engage and monitor patients while improving productivity
The CME/CE Spotlight course, Intro to Digital Health, is also available to non-ABQAURP members for a very limited time. Use promo code: NMFREECE through October 26th to register online at: https://education.abqaurp.org/topclass/topclass.do?expand-OfferingDetails-Offeringid=196955.
In addition to the spotlight courses, Professional Members can now find these courses free on our the ABQAURP website any time. View the course catalog at: https://education.abqaurp.org/topclass/searchCatalog.do?catId=0 to order.
Insurance Denials: Appeals, Prevention, and Contracting Advice
NTOCC Webinar - Shared Decision Making
NTOCC Webinar - Improving Transitions for Heart Failure Patients
NTOCC Webinar - Coming of Age: Social Determinants Matter
NTOCC Webinar - Improving Healthcare Coordination through Technology
NTOCC Webinar - Aging Life Care Support
NTOCC Webinar - Integrated Population Health Strategy
NTOCC Webinar - Mastery of the Social Determinants of Health
Visit the ABQAURP website at: https://www.abqaurp.org/ABQMain/Membership/Professional_Membership/ABQMain/Professional_Membership.aspx or call (800) 998-6030 to join as a Professional Member today!
About ABQAURP
Celebrating over 40 years of excellence in Health Care Quality Management and Patient Safety, ABQAURP is a premier professional association providing Health Care Quality and Management (HCQM) certification, ACCME-accredited continuing medical education, and membership to health care professionals worldwide. Learn more at: http://www.abqaurp.org.