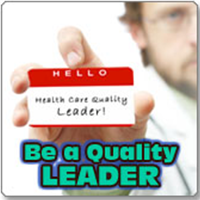 Never Stop your Quest for Excellence
NEW PORT RICHIE, Fla. (PRWEB) November 10, 2021
Professional Membership with the AMERICAN BOARD OF QUALITY ASSURANCE AND UTILIZATION REVIEW PHYSICIANS® (ABQAURP) was established for health care professionals who are devoted to ABQAURP's mission to improve health care quality and patient safety. Many choose to utilize this membership as a pathway to HCQM Certification, taking advantage of educational opportunities while preparing for the certification exam.
Professional Membership with ABQAURP strengthens your pursuit of excellence in health care quality management and patient safety! ABQAURP's education, live conferences, networking, Career Center, and Health Care Quality and Management (HCQM) Certification provide the foundation and continuing education to stay on top of today's ever-changing health care landscape.
Benefits include discounted registration fees for the Certification Exam, live conferences, and all ACCME-accredited online continuing medical education courses. The education credits earned for these programs may be applied toward eligibility for the certification exam. Professionals earn CME / CE through featured CE Spotlight courses that are offered complimentary during certain periods. Professional members are also listed in ABQAURP's online directory and have unlimited access to the Member's only section of the website. Professional members can take advantage of employment opportunities through ABQAURP's participating health care placement companies and prospective networking at continuing education conferences.
Visit the ABQAURP website at: https://www.abqaurp.org/ABQMain/Professional_Membership.aspx or call (800) 998-6030 to join as a Professional Member today! Members joining in November and December will be billed for 2022 dues and begin benefits immediately, receiving the rest of the year complimentary.
About ABQAURP
Celebrating over 44 years of excellence in Health Care Quality Management and Patient Safety, ABQAURP is a premier professional association providing Health Care Quality and Management (HCQM) Certification, ACCME-accredited continuing medical education, and membership to health care professionals worldwide. Learn more at: http://www.abqaurp.org.