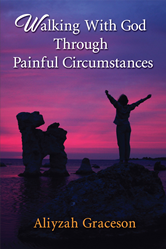 "Coming through the painful circumstance is just part of the victory, but the ultimate victory is when we share our story with someone who can benefit from it…We are called to tell our story with boldness, emphasizing the grace and glory of God interwoven through it. Our stories are powerful!"
WILMINGTON, Del. (PRWEB) November 22, 2019
Walking with God Through Painful Circumstances is a personal account of hurt and betrayal—experiences that exempt no one, regardless of background or beliefs. Countless couples go through rough patches, and while some prevail and find restoration, others end in bitter separation and divorce, affecting not only the couple, but also their families. Through her new book published by Elm Hill, Aliyzah Graceson advises people who have experienced such devastation that they are still loved by God, and as they trust in Him, His plan for their lives will emerge from the ashes, and will come to fruition. God has an expected end for every one of us.
In the first parts of the book, the author discusses in length how she yearned to be loved. She openly shares how she experienced one relationship after another, seeking to fill the emotional void she felt after losing the closeness with her father when she was a child. During college she became pregnant, and eventually became a single mother raising two children on her own. After accepting Jesus Christ as her Lord and Savior, she found temporary reprieve from feeling incomplete and empty, yet the void eventually returned.
"I hadn't fully renewed my mind to the truth of who God said I was after giving my life to Christ." Aliyzah Graceson shares that people with past trauma often think less of themselves and assume that their previous experiences have made them less worthy of love. "I had not allowed myself to see myself in my new identity of being a daughter of the Most High God, of being fearfully and wonderfully made, and being redeemed from my past life and broken image when I was invited to my new one. I was still allowing the enemy to speak to me, making me feel disqualified because of my past."
As a child, the author had always desired a marriage full of love. While actively serving in her local church, she met and fell in love with a fellow servant of God. After getting married and starting their new life together, a new set of obstacles appeared. She began to experience the impact of her husband's deep insecurities and became the victim of emotional abuse and controlling behaviors. She went through several instances of marital betrayal, an arrest which forced the couple to separate, and a heartbreaking legal battle that lasted for more than a year. During that dark and difficult time, Aliyzah learned to not only to lean on God, but also to trust His wisdom even when she didn't fully understand it. The marriage ended despite much prayer and meeting with mental health professionals and pastors. She admits to her readers that divorce is not always the answer to a failing marriage, even in the case of marital infidelity, but it is a personal decision each individual must make with God's guidance.
"Coming through the painful circumstance is just part of the victory, but the ultimate victory is when we share our story with someone who can benefit from it." The author reminds readers that outgrowing one's trauma is only as good as how much we are willing to use it to help another person with their own struggle. "That is the victory that keeps on giving. We didn't come through our trials to keep it to ourselves or to hide it under a bushel…but we are called to tell our story with boldness, emphasizing the grace and glory of God interwoven through it."
The pain after her failed marriage inspired her to continue learning about God's love and to tell others about it, particularly people going through similar circumstances. She hopes to reach out to her audience with guidance on coping with their pain productively, allowing them to move on with their lives with God at the center of their transformation.