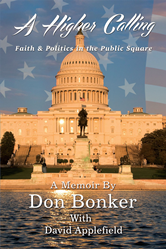 "Legacy, to have meaning beyond the ego, has to mean something to someone else. Worthiness is mostly a matter of what someone else can make use of, can benefit from, can turn into her or his own. That's the only way to measure if what you did really made a difference."
SEATTLE and WASHINGTON (PRWEB) December 18, 2019
Don Bonker gives readers his unique take on writing an autobiography in his latest book, A Higher Calling: Faith and Politics in the Public Square. Yes, strange that a political career would begin in a dance studio, that was more fantasyland than a work place, but exposed him to those who had passion for this art in spite of the apparent injustice within the industry at the time. His wake-up call was seriously dating someone who feared linking up with a guy whose career would be nothing more than teaching cha-cha-cha.
In younger days, Don Bonker had to cope with an absentee father, being raised by a single mother, with relative low expectations -- a journey marked with intriguing tales along the way and how one's personal faith made a difference. Once in the public square, his working with a select number of leaders who placed the common good above ambition helped to shape his personal and political persona, which will be an inspiration for others who seek the higher standard.
"Speechless, I was obviously thrilled and filled with disbelief," the author shares to his audience that in the midst of his misfortune, the door closed by the Lord will be replaced by another one. In his case, it was being selected to participate in a prestigious research internship under certain members of the US Senate. "Chances and good luck happen in lots of forms. Don't look back. You work hard, you try, you pray, you study, you keep going, and the good things arrive. You never know for sure why or how or when, but the good things arrive."
Regardless of how far a person has come in life, the fundamental question is what are the circumstances that shape who or she becomes as a person. When entering public life, is there a set of principles that become a moral compass in dealing with complex and contentious issues, or will it be ambition, fueled by political forces and the power of the purse? How will we be remembered, especially by one's family, grand children and beyond -- ?.
One of the most prevalent morals that Don Bonker presents in A Higher Calling is balancing values and a code of ethics over ambition. Winning elections is merely the means to an end—serving constituents, which is a full-time job that is not meant for everyone, even if their heart is in the right place. Once in elected office, it is a balancing act, weighing how best to represent their constituency with the national interest, and ultimately one's conscience - the best of their God-given ability.
It is what a person leaves behind that others will remember, and Don Bonker tells readers that regardless of one's origins, they can make a life-changing impact on those who need it. "Legacy, to have meaning beyond the ego, has to mean something to someone else. Worthiness is mostly a matter of what someone else can make use of, can benefit from, can turn into her or his own. That's the only way to measure if what you did really made a difference."