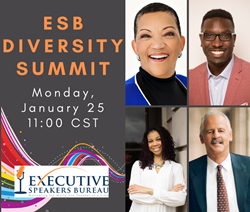 MEMPHIS, Tenn. (PRWEB) January 13, 2021
Tough corporate conversations about inequity where we work, live, and learn can be intimidating but more than ever, they are necessary. No matter the conflict or crisis, organizations need to know why and how to lead critical conversations about tough topics. Join Executive Speakers Bureau Monday, January 25 at 11:00 CST for this important discussion, where our panel will address:

Unconscious Bias
Systemic Racism
Equity vs. Equality
Why Diversity & Inclusion Go Hand-in-Hand
Discover how unconscious bias impacts behavior and key decisions and develop a sustainable DE&I Strategic plan that establishes how to enhance equity and mitigate the challenges of racial conflict at all levels of an organization.
The ESB Diversity Virtual Summit will feature panelists Lenora Billings-Harris, internationally recognized keynote speaker on diversity, inclusion, and unconscious bias; Dr. Kevin Ahmaad Jenkins, two-time award-winning national journalist, health disparities activist, and dynamic speaker; Kim Blue, Global Head of People Experience Partners at Zoom; and moderated by leadership thought leader and mentor, Stedman Graham.
This summit is for everyone from the C-Suite to the budding professional who is looking to understand and appreciate the value of a strong D&I program that can be put to use in both their personal and professional lives. Diversity & Inclusion should be an integral part of all company business plans. Learn how you can work towards developing your own plan and setting strong goals that reinforce a diverse corporate culture. This is a time where we can set ourselves apart from the competition by increasing our knowledge and forging ahead to lead those around us to do the same.
Sign up today at http://www.diversityvirtualsummit.com
ABOUT EXECUTIVE SPEAKERS BUREAU
Executive Speakers Bureau is a full-service speakers bureau, taking pride in our ability to provide world-class service as well as our ability to deliver today's foremost professional speakers and expert trainers to clients around the world. It is our commitment to provide our clients with unparalleled service, access to hundreds of motivational speakers worldwide and individualized personal attention. For more information or to check speaking fees and availability, visit http://www.executivespeakers.com or call us at (901) 754-9404.