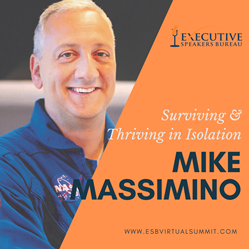 Memphis, TN (PRWEB) May 18, 2020
Executive Speakers Bureau is pleased to announce the first ESB Virtual Summit on May 19-20, 2020 featuring ten elite business keynote speakers that include former executives, bestselling authors, thought leaders, and even an astronaut. You will gain cutting edge insights into the new workplace and how to innovate during this unique time. As we embrace this time of unprecedented change, you can equip yourself and your team with the tools and training to prepare for the future, increasing your knowledge and forging ahead to lead through uncertainty.
Mike Massimino, a former NASA astronaut, is a professor of mechanical engineering at Columbia University and the senior advisor for space programs at the Intrepid Sea, Air & Space Museum. He received a BS from Columbia University, and MS degrees in mechanical engineering and technology and policy, as well as a PhD in mechanical engineering, from the Massachusetts Institute of Technology.
Mike will kick off day two of the ESB virtual summit with his presentation titled, "Surviving and Thriving in Isolation." Mike has experienced the greatest isolation a human being could ever know: the solitude of space, hundreds of miles above humanity. A NASA astronaut for 18 years, Massimino spent about a month total sheltering in place—or, more accurately, sheltering in space—aboard two separate missions on the space shuttle, donning a suit and stepping out into the ether to repair the Hubble telescope, and taking in the greatest view a human could ever know. In this timely session, Mike shares tips on how to make the most of isolation, the importance of keeping lines of communication open, and ways to pursue meaningful distractions (emphasis on meaningful).
OTHER KEYNOTE SPEAKERS INCLUDE:

TICKETS:
Individual Pass: $99
Group Pass (5ppl): $399
Company Pass (Unlimited): $699
The ESB Virtual Summit is for everyone from the C-Suite to the budding professional who is looking to get ahead of the curve. The insights gleaned will be able to help you and your team not only during the Pandemic but also for years to come. Don't miss this opportunity to learn from 10 elite speakers, which equate to more than $175,000 worth of speaking value, all on one agenda!
To register or learn more information, visit https://esbvirtualsummit.com/ or call (901) 754-9404.
ABOUT EXECUTIVE SPEAKERS BUREAU
Executive Speakers Bureau is a full-service speakers bureau, taking pride in our ability to provide world-class service as well as our ability to deliver today's foremost professional speakers and expert trainers to clients around the world. It is our commitment to provide our clients with unparalleled service, access to hundreds of motivational speakers worldwide and individualized personal attention. For more information, visit http://www.executivespeakers.com or call us at (901) 754-9404.