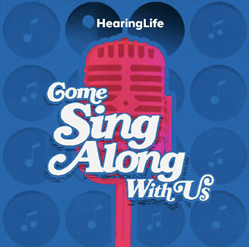 "With this song, we highlight the importance of connecting friends and family during these challenging times and beyond, and to thank you all for being a part of our world-wide hearing care network."
SOMERSET, N.J. (PRWEB) October 23, 2020
HearingLife has launched a Virtual Choir to bring together their team members, customers, and anyone who wants to join in to share the joy of music. HearingLife wants to thank their valued customers for taking the steps necessary to achieve better hearing and recognize their team members for the outstanding care they provide. It is free and easy to join in and anyone can participate. According to Dean Pappous, HearingLife's President, "With this song, we highlight the importance of connecting friends and family during these challenging times and beyond, and to thank you all for being a part of our world-wide hearing care network."
Giving Back
For every share of the final video on social media, HearingLife will be donating an extra $5, up to $25,000, to the Campaign for Better Hearing Give Back program which provides hearing aids to those in need. This is an opportunity for all of us to join together in a virtual choir singing: "Thank You For Being A Friend" made popular by the inclusive and uplifting TV show, The Golden Girls.
Free to Join In
It is free to join in. Submissions are now open to anyone who wants to participate. HearingLife encourages all to submit their video as soon as they feel confident with the song. Keep an eye on their Facebook page for closing deadlines.
Hearing Health
Hearing has never been more important than it is in today's world where we rely on technology such as Bluetooth® and video calls to communicate with friends and loved ones. Those who have noticed a decline in their hearing ability are advised to take an online hearing test or schedule an appointment which would include a full evaluation and diagnosis using the most advanced testing methods available. Early diagnosis and intervention may help prevent cognitive decline, according to experts. Family and friends who notice someone is struggling to hear are also encouraged to suggest an appointment.   
Safety protocols are in place at all HearingLife Hearing Care Centers for the utmost patient care, so visitors can attend clinics in safety and confidence. Those inquiring about an urgent appointment now, or who wish to book a consultation, can call 844-836-5003 for help. 
HearingLife is a Demant company, a world-leading hearing healthcare group, that was founded on care. We have a long history of making life-changing differences through hearing health. HearingLife is one of the largest groups of hearing care centers in the U.S. with more than 600 centers nationwide across 42 states. We follow a proven, results-oriented approach to hearing health where skilled professionals deliver the best hearing care, tailored to the unique needs of each customer.