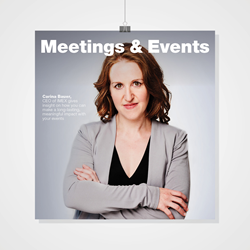 "It is a city that inspires new ideas, new partnerships and out-of-the-box thinking. The birthplace of jazz, New Orleans is a hub of celebration and fosters a rich entrepreneurial ecosystem."
NEW YORK (PRWEB) December 04, 2018
Mediaplanet will be sharing its Meetings & Events campaign at IAEE's Expo! Expo!, December 11th-13th in amazing New Orleans, the leading exhibition to engage on the latest trends and technology in the events industry
The cross-platform campaign advocates for an increased emphasis on the importance of face-to-face meetings in the growing digital world. As we dive deeper into the digital revolution; telecommunication, social media, video conferencing and the cloud are making it easier for organizations to connect from distant locations without actually meeting people face to face. However, with less and less face to face communication, key parts of business such as trust, emotion and capturing attention are suffering. As day-to-day communication continues to become increasingly digitized, it is more important than ever to take action to incorporate business trips for in-person meetings, conferences, events, and corporate outings– the value of face to face communication and engagement still outweighs the cost of travel and attendance for creating lasting relationships.
Within the campaign, Robert Reso, Vice President of Convention Sales at New Orleans & Company, highlights the exciting atmosphere and event spaces available for hosting unforgettable events, or for engaging leisure and historical activities. "New Orleans is one of America's most unique, authentic and iconic destinations," he states. "It is a city that inspires new ideas, new partnerships and out-of-the-box thinking. The birthplace of jazz, New Orleans is a hub of celebration and fosters a rich entrepreneurial ecosystem."
While in New Orleans for IAEE's Expo! Expo!, be sure to take advantage of all of the things this amazing city has to offer. With its rich culture, cuisine, nightlife, history and vibrant arts, there are endless fun activities, events and attractions to enjoy. From dining at the finest creole restaurants in New Orleans' French Quarter to exploring the history of the many diverse other neighborhoods, there is always something to keep the fun going. Visit NewOrleans.com to explore all that New Orleans has to offer.
The print component of "Meetings & Events" is distributed within today's edition of USA Today in Los Angeles, New York, San Francisco, Washington DC/Baltimore, Chicago, Dallas and Boston with a circulation of approximately 250,000 copies and an estimated readership of 750,000. In addition, it will be distributed at several industry-focused conferences, including the IAEE's EXPO! EXPO! 2018, IMEX America 2019 and the PCMA's Convening Leaders Conference. The digital component is distributed nationally, through a vast social media strategy, and across a network of top news sites and partner outlets. To explore the digital version of the campaign, visit http://www.futureofbusinessandtech.com/topic/meetings-and-events
This campaign was made possible with the support of IMEX Group CEO Carina Bauer, New Orleans & Company, Meeting Professionals International (MPI), International Association of Exhibitions and Events™ (IAEE), Associated Luxury Hotels, Caesars Entertainment, Destination Cleveland, Disney Meetings & Events, Explore St. Louis, Global DMC Partners, Lansdowne Resort and Spa, New Orleans & Company, Visit Houston, Visit Pittsburgh, Meetings Mean Business Coalition, Professional Convention Management Association (PCMA), CEMA (Corporate Event Marketing Association), National Association for Catering and Events (NACE), Association of Destination Management Executives International (ADMEI), IMEX Group, Society for Incentive Travel Excellence (SITE), International Live Events Association (ILEA), Event Service Professionals Association (ESPA), Rental & Staging Network (RSN)
About Mediaplanet
Mediaplanet specializes in the creation of content marketing campaigns released through multimedia platforms. We provide our readers with insightful and educational editorial in the fields of their interest, designed to motivate them to take action. Our unique ability to pair the right leaders, with the right readers, through the right platforms, has made Mediaplanet into a global powerhouse in content mark2eting. We continue to explore and expand our network of partners and clients through the shared interest of providing our readers the best experience possible.
About New Orleans & Company
New Orleans & Company is a nationally accredited, 1,100-member destination marketing organization and the largest and most successful private economic development corporation in Louisiana. We're your local experts, your boots on the ground and a partner in making your event in New Orleans the most successful yet! Our dedicated Convention Sales team will help you identify the best dates, space and rates in the city, our knowledgeable Convention Services team, who will help you identify off-site venues, select vendors and partners, provide on-site literature and act as your local expert, and our dedicated Group PR team – one of the only in the country – focuses on helping you promote your meeting and build attendance. Let us help you with the details so you can laissez les bon temps rouler!
Press Contact:
Richard Sparano
Richard.sparano@mediaplanet.com
(646) 922-1415