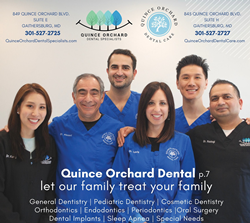 "Quince Orchard Dental Care's main goal was to cater to 10,000 patients by 2020. Words cannot express how proud my team and I are, to be able to achieve this goal in 2019." - Dr. Mehran Rouhanian, Owner of Quince Orchard Dental Care
GAITHERSBURG, Md. (PRWEB) July 14, 2020
Quince Orchard Dental Care is a complete health practice, which means they consider your overall health in everything they do. The mouth is the gateway to the body and oral health problems are usually indicators that your overall health may be in jeopardy. Their team of dentists works closely with patients - both adults and children and their general physicians to achieve optimal overall health.
The practice's main mission is to make people healthy. Dr. Rouhanian, owner of Quince Orchard Dental Care, and his experienced team set out to help 10,000 people be on the road to great health by 2020. To aid this effort, they moved to a new location with more space, state-of-the-art equipment, and a bigger, highly qualified team. They also participated in community outreach programs, school visits, word of mouth, etc and were able to make a positive impact on the community. They are very pleased to announce that their dream has now become a reality. The 10,000 healthy patients milestone has been reached before 2020! Their daily efforts have paid off and they look forward to 10,000 more patients!
"Quince Orchard Dental Care takes pride in being able to improve the oral health of everyone in our community by providing quality dental care services from experienced professionals. One of our main goals was to cater to 10,000 patients by 2020. Words cannot express how proud my team and I are to be able to achieve this goal in 2019." - Dr. Mehran Rouhanian, Owner of Quince Orchard Dental Care
The achievement of such a monumental milestone has caught a lot of positive attention from their community and patients. In honor of their accomplishment, they've snagged the front cover of an issue of the Discover The Best Of Montgomery County. There is also an article featured where you can read more about what this accomplishment means to Quince Orchard Dental Care.
Pride is always taken in the meticulous care provided to patients and as such 10,000 patients trusted Quince Orchard Dental Care with their oral health. The practice's skills, expertise, and professionalism are delivered in a personalized, comfortable atmosphere of empathy and mutual trust. Their dentists and support staff are dedicated to their continued education and professional development. Professional self-improvement goals, adding innovative and new techniques, and procuring the latest in technological advances in the dental industry are key contributors to their team's excellence. Ultimately, this represents their commitment to administering world-class service to their valued patients.
At Quince Orchard Dental Care, patients are never rushed. Instead, they are provided with attentive consultations that allow for the dentists to delve a little deeper and provide education about proper dental care as well as their patients' overall health. The wait for appointments is kept to a minimum while ensuring that other patients are not rushed. Timeliness and attentiveness are cornerstones of everything they do. For these reasons and more, you are invited to check them out, where maybe for the first time, you will start enjoying visits to the dentist. Schedule an appointment with them to become the first set of the next 10,000 patients to be on the road to great health as well!