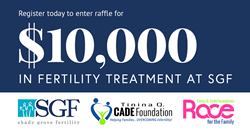 "The Cade Foundation provides support to those struggling with infertility with financial grants and also provides them with a strong sense of community...I am honored to support this year's Race for the Family."
BALTIMORE (PRWEB) June 09, 2021
The Cade Foundation will host the 16th Annual Race for the Family virtually on Saturday, June 12, 2021. Registrants can walk, jog, or pedal for either a 5k or 1 mile activity. Revenue from this event will support the Cade Foundation's Family Building Grants, which provide up to $10,000 to help needy, deserving families who have infertility with infertility treatment at Shady Grove Fertility (SGF) or adoption costs. SGF physicians, staff, and current and former patients and other supporters from throughout the community are invited to participate and thereby celebrate the strength and courage it takes to overcome infertility.
All registrants will receive one raffle ticket and grant recipients will be drawn at the Fall Virtual 5K Race for the Family held in October. Ticket purchases will also permit race registrant's attendance to the Fall event. The raffle prizes will include up to $10,000 in fertility treatment at SGF, given in honor of the legacy and memory of Dr. Stephen Greenhouse.
Former Dr. Stephen Greenhouse Grant recipients, Stephanie and Dale, shared "The Cade Foundation gave us an extended family that knew EXACTLY what we were enduring and a safe haven. We didn't have to explain or expand upon our pain or experiences — they understood it all. The Dr. Stephen Greenhouse Grant gave us the hope to try one more time! Without that grant, our son wouldn't be here today."
The event will be live-streamed from 9:00-9:15 am via Facebook and the Race for the Family Virtual Platform. In addition to SGF, other sponsors include Ferring Pharmaceuticals, EMD Serono, and Donor Egg Bank USA.
Shruti Malik, M.D., a reproductive endocrinologist from SGF explained, "The Cade Foundation provides support to those struggling with infertility with financial grants and also provides them with a strong sense of community. I was immediately drawn to the ideals of the Cade Foundation because they resonate so strongly with those of our SGF family and I am honored to support this year's Race for the Family."
To purchase raffle tickets or to make a donation towards this cause, please visit the Race for the Family event page.
To apply for a Family Building Grant, please submit an application for the Cade Foundation Family Building Grant at https://cadefoundation.org/grants/.
About Shady Grove Fertility (SGF) 
SGF is a leading fertility and IVF center of excellence with more than 85,000 babies born and 5,000+ 5-star patient reviews. With 40 locations, including new locations in Colorado and Norfolk, VA, as well as throughout FL, GA, MD, NY, PA, VA, D.C. and Santiago, Chile, SGF offers patients virtual physician consults, delivers individualized care, accepts most insurance plans, and makes treatment affordable through innovative financial options, including 100% refund guarantees. More physicians refer their patients to SGF than any other center. SGF is among the founding partner practices of US Fertility, the largest physician-owned, physician-led partnership of top-tier fertility practices in the U.S. Call 1-888-761-1967 or visit ShadyGroveFertility.com. 
About Tinina Q. Cade Foundation
The Tinina Q. Cade Foundation is a non-profit organization that is dedicated to serving the needs of families battling infertility through education, outreach, and grants that help couples pay for infertility treatment or domestic adoption. In the past decade, through events like the Race for the Family™, Corks with Cade™, and others, SGF and the Cade Foundation have raised more than $750,000 that is used to fund grants for fertility treatment and adoption for families with infertility and to build awareness about the 1 in 8 couples struggling with infertility. For more information about the Cade Foundation please visit http://www.cadefoundation.org.