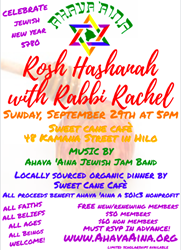 Rabbi Steve Blane and Sim Shalom's online synagogue offer awesome Jazz inspired High Holiday services at the Bitter End.
NEW YORK (PRWEB) September 26, 2019
The Jewish Spiritual Leaders' Institute began its 18th class on September 4th. While the new cohort begins its studies of the High Holidays and Festivals dozens of its graduates are offering High Holiday services across the United States.
Rabbi Steve Blanes's Sim Shalom Online Synagogue offers awesome Jazz inspired High Holiday services at the Bitter End in New York. Join JSLI Founder and Dean Rabbi Steve Blane and his quintet of Jack Glotman on Piano, Carol Sudhalter on Sax and Flute, Liz Taub on Fiddle, Kevin Hailey on Bass and Frank Levitano on Drums. And Evan Kremin will be back on Shofar. Services are scheduled for the 1st day of Rosh Hashana and Yom Kippur at 10:30am and are also streamed globally. Rabbi Blane is the Founder and Dean of JSLI and one of the Founders of the Union of Jewish Universalist Communities.
The Union of Jewish Universalist Communities is an association of Rabbis and their congregations who adhere to the tenets of Jewish Universalism and recognize the uniting presence of a Universal God, our Source, and the loving light of community. The UJUC embraces all who want to gather, worship, celebrate and explore humanity and nature through the lenses of Jewish spirituality, liturgy and tradition.
UJUC Rabbis offer services around the US for the High Holidays.
Join UJUC member Rabbi Jennifer Rudin of Simcha Services for Rosh HaShanah and Yom Kippur in Holliston, MA. Services blend traditional & contemporary melodies, prayers, readings and inspirations. Services are engaging for Hebrew and non-Hebrew readers alike. This year the 2nd day of Rosh Hashanah and Kol Nidre feature Rabbi/Cantor Jon Nelson on guitar and vocals. Rabbi Rudin is a Liberal Rabbi and experienced Jewish educator who believes that Judaism is relevant, meaningful and inspirational. Her work is grounded in the belief that every person experiences and expresses Judaism differently...Your Judaism....Your Way! Rabbi Rudin was ordained as part of the JSLI Class #13.
Rabbi-Cantor Robbi Sherwin (JSLI Class 7 and a member of the UJUC) considers herself a "smitten mountain rabbi" and after 11 years in Crested Butte Colorado at an independent congregation at 10,000 feet, she is enjoying being the first woman in 25 years to lead the Reform Wood River Jewish Community in Sun Valley, Idaho. Sun Valley is the site of the first ski resort in the country, founded by Hollywood elites in 1936, and boasts a Jewish community from all over the world, including many celebrities who join her "attitude of chai-altitude gratitude" in beautiful Idaho. Robbi's song for Yizkor, "We Remember," written while she was a student at JSLI, has been selected by the Jewels of Elul compilation as one of the top contemporary songs for the High Holidays. She continues to write, record and tour and is the current President of the Women Cantors' Network.
Rabbi Karen Becker-Marcello of the UJUC and JSLI Class #16 will be providing services at the assisted living where she serves a small, yet vibrant community. They will celebrate at early bird services each Friday at 3:00pm using easily readable prayer books Rabbi Karen has designed for her aging congregation. And as always UJUC members and JSLI trained Rabbis Deborah McKenzie, Nancy Tunick, and Galit Slater-Levy along with Rabbi Karen will be streaming Sim Shalom evening services throughout the holidays and festivals.
About Sim Shalom and JSLI
Sim Shalom is an interactive online Jewish Universalist synagogue which is liberal in thought and traditional in liturgy. Created in 2009 by Rabbi Steven Blane on Manhattan's Upper West Side, Sim Shalom offers a means of connecting the unconnected. Rabbi Blane leads accessible and short Shabbat services every Friday night using a virtual interface and additionally Sim Shalom provides online education programs, Jazz concerts, conversion and life-cycle ceremonies along with weeknight services at 7:00PM EST led by Rabbis and students of this online community.
Rabbi Blane is also the founder and director of the Jewish Spiritual Leader's Institute, http://www.jsli.net, the online professional rabbinical program and of the Union of Jewish Universalist Communities, an association of Rabbis and communities who support Jewish Universalism.
Sim Shalom, a non profit 501 © (3) tax-exempt organization, nurtures a Jewish connection through its mission of innovative services, creative education and dynamic outreach to the global community. For more information visit http://www.simshalom.com or call 201-338-0165.