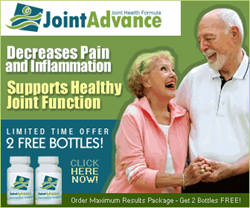 Shield your joints naturally today with joint advance.
San Diego, CA (PRWEB) August 18, 2013
Joint Advance, a non-prescription joint care supplement, is currently being offered in a newly-improved formula. Aside from its original ingredients such as white willow bark, ginger, and Vitamin C, the supplement now comes with healthy doses of Glucosamine Complex, MSM, and Chondroitin Sulfate. All pure and natural, these three ingredients are known to boost the strength and provide for the nutrition that the joints need in order to function better and much longer.
Click Here to Visit Joint Advance Official Website.
Glucosamine complex is proven to help renew and develop the cartilage. It is a naturally occurring substance that also works by lubricating the joints for improved physical movements. Chondroitin, on the other hand, is formed by sugar chains that maintains the level of fluids inside the body, more particularly at the joints, for improved flexibility. MSM stands for Methylsulfonylmethane, which is a natural form of sulfur that supports the functions of the tendons and muscles.
With Joint Advance's scientifically proven all-natural ingredients working together, it can better support the overall health of the joints and makes them more mobile. This supplement is pure, safe, and effective. It acts like a shield to keep the joints from sustaining added stress, which is usually obtained from playing hard and working hard all the time.
Click here to visit Joint Advance official website and get 1 month extra supply with your order.
Joint Advance is marketed as a sensible, logical, and highly scientific product that can restore one's active ways, even if he or she is way past his prime. With the new ingredients boost, the formula performs better than ever, as attested by its numerous users worldwide.
Maria from the USA claims, "Joint Advance has changed my life. Because of it, I feel a lot more confident with my moves now." Mark, also from the USA, said "After taking Joint Advance for several weeks, my friends are commenting on how I have improved greatly, both physically and from within."
A purchase of the Joint Advance formula is currently being offered with a complimentary copy of the Joint Protection Diet Guide and a lifetime membership access to an exclusive results-based online fitness program. To know more about Joint Advance and its newly improved formula, visit http://www.healthcaresupplementz.com/order-joint-advance