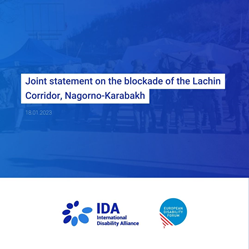 As a result of the blockade of the Lachin Corridor, the lifeline road connecting Nagorno-Karabakh to Armenia, around 120,000 people, including more than 9,000 persons with disabilities face grave human rights violations.
GENEVA (PRWEB) January 19, 2023
As a result of the blockade, around 120,000 people, including more than 9,000 persons with disabilities, face grave human rights violations. This includes the denial of their freedom of movement as about 1,100 people cannot return to their homes in Nagorno-Karabakh, including 270 children separated from their parents.
Children's right to an inclusive education has been disrupted because kindergartens and preschools have been closed due to the insecurity of the food supply.
Due to the closure of the road, access to essential goods and services in the region has become impossible. Shops are mostly empty, and medicine, including for children and persons with long-term medical conditions, are largely unavailable. There are reports of children being given adult medicines due to these shortages.
The situation is particularly challenging for persons with disabilities living in residential institutions because the issue of access to medicine is getting worse from day to day and food supplies are especially limited for people who have special dietary requirements.
People in need of urgent medical assistance, whose treatment cannot be organized in Nagorno Karabakh, can be transferred to Armenia, but only with the help of the International Committee of the Red Cross.
We, the undersigned organizations, call on all parties to fulfill all their obligations according to the United Nations Convention on the Rights of Persons with Disabilities and the Security Council Resolution 2475. The Government of Azerbaijan and the peacekeeping contingent of the Russian Federation must immediately unblock the Lachin Corridor in accordance with paragraph 6 of the November 9, 2020, Trilateral Statement. We call for the unimpeded humanitarian access as well as freedom of movement along the Lachin Corridor, in both directions, for all civilians, to ensure safe, timely and unlimited humanitarian assistance for all.
We call on the authorities of Armenia to take all necessary measures to ensure fulfilling human rights of those who cannot return to Nagorno-Karabakh, providing them with accessible conditions and reasonable accommodations. We call on all leaders in the region to work together towards a peaceful solution to prevent military escalation of the conflict and help facilitate peace negotiations.
We call on humanitarian actors and human rights organizations to provide adequate assistance to people with disabilities in the region, meaningfully considering gender and age differences as stipulated in the international standards including the Inter-Agency Standing Committee Guidelines on Inclusion of Persons with Disabilities in Humanitarian Action.
The meaningful participation of persons with disabilities and their representative organizations in the conflict prevention and resolution processes should be assured to ensure that the human rights of persons with disabilities are protected, promoted and prioritized.
Signed by:
The European Disability Forum
The International Disability Alliance (IDA)