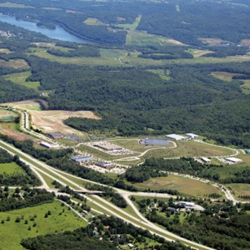 This is an exciting project, and timely given the utility sector's current workforce needs. There is also a tremendous upside for our local and regional economy.
FREEPORT, Pa. (PRWEB) July 25, 2019
The Armstrong County Industrial Development Council (ACIDC) and The Energy Innovation Center Institute, Inc. (EICI), have entered into a joint venture agreement to design, develop and operate the Critical Infrastructure Workforce Academy™ (CIWA), located at Northpointe, an 800-acre business park in Freeport, PA.
CIWA is a unique training facility in Armstrong County that will focus on providing our current and future workforce the skills necessary to safely install, operate and maintain critical infrastructure; gas, electricity, water, sewer and telecommunications. CIWA is supported by the utility, energy and related construction industries as a means of improving both public and worker safety, attraction and training of a new workforce, the retraining and upskilling of both displaced and incumbent workers, and the advancement of energy sector research.
"The Marcellus Shale Coalition is pleased to be partnering with the Energy Innovation Center Institute's first national Critical Infrastructure Workforce Academy. The MSC and our membership believe that CIWA's unique training platform will assist in preparing our regional workforce to secure employment opportunities associated with the safe and responsible development of new natural gas infrastructure." – David J. Spigelmyer, President, Marcellus Shale Coalition
Once fully developed, CIWA will include state-of-the-art classroom and online training, virtual and live simulation with over 20 acres to mock rural, suburban, urban and industrial streets and building settings. Additionally, the site is expected to function as a living laboratory for the main users of the facility: utility providers, upstream and midstream energy sectors and the construction industry.
"CIWA is a groundbreaking approach to the current and future needs of infrastructure builds and rebuilds, country wide. Henkels and McCoy is both excited and privileged to be a part of the team."
– James (Jim) A. Duffy Jr. Regional Vice President of the East Region for Henkels & McCoy, Inc.
The Project's facilities, programing, and training are expected to be a new model of collaboration between employers, innovators, regulators, trade unions, and training organizations for regional workforce development, upskilling of displaced or underemployed people in the region, and to drive improved job readiness, safety and efficiency.
"The Energy Innovation Center Institute is delighted to partner on this important project. By establishing CIWA in Armstrong County and aligning with corporate and community needs, we will bring workforce development, education and innovative technology, to where it's needed most." – Charlie Schliebs, Chairman
The ACIDC will design and build the facility collaboratively with the EICI, regional employers, and their national training partners. The EICI will develop and manage the academy and all its training and programing. Funding is being secured jointly through various sources, including; private investors, industry focused employers, government and foundation grants.
"I'm very excited for the opportunity this joint venture represents for Armstrong County and the entire region. Prior to Sen. White leaving office, he strongly advocated for this initiative and I am eager to do the same. I sincerely hope this effort demonstrates concrete results in the near future." – Senator Joe Pittman, 41st District
The CIWA project and programing will be designed and built in several phases beginning in 2019. The EICI plans to conduct initial classroom training this fall at the Indiana University of Pennsylvania (IUP) classroom facilities already in operation at Northpointe. The ACIDC anticipates breaking ground on the first phase of the workforce academy and simulation yard in the spring of 2020.
"This is an exciting project, and timely given the utility sector's current workforce needs. There is also a tremendous upside for our local and regional economy. The Armstrong County Board of Commissioners have consistently asked us to identify opportunities that can make a real difference. I believe this project fits the bill." – Dennis Smail, Chairman ACIDC