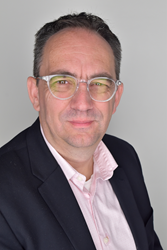 "It's exciting to be able to share my marketing expertise to partners and members at the upcoming Microsoft Dynamics Community Events happening in Barcelona, Spain," said Jon Rivers
TAMPA, Fla. (PRWEB) February 18, 2020
Marketing Monarchs President Jon Rivers will be presenting two sessions at the extreme365, and Community Summit Europe conferences 9-12 March 2020. These events, powered by Dynamic Communities, are being held at the Fira Barcelona in Barcelona, Spain. extreme365 provides the essential technical and go-to-market readiness for partners of Microsoft Dynamics Finance & Operations, Customer Engagement, plus the Power Platform applications. For more information and registration, visit https://www.extreme365europe.com/
The Community Summit Europe event brings Microsoft Business Applications users together to learn, collaborate, and connect about Dynamics 365 and Power Platform Applications. For more information and registration, visit https://www.summiteurope.com/
Rivers will be presenting the session, "Why Influencer Marketing is the Next Big Thing and Why YOU Should Care!" at extreme365. Influencer marketing is on the rise, and for visionary marketing, the world of possibilities is limitless. Attendees will leave with ways they can utilize influencer marketing within their company and to help their brands connect with consumers more directly, more organically, and at scale.
During the Community Summit Europe, Rivers will be presenting the session "Social selling tactics to attract engage and convert more." Despite what you may have heard, social media can help with selling. In the session, we will cover some of the best practices that the most successful sellers are using today, including how to get started and use social selling in your business.
"We are excited to have Jon join us in Barcelona," said Tony Stein, VP of Programming for Dynamic Communities. "Jon has been bringing his marketing expertise to our partners and members for many years in the United States, and we thought it was time his incredible knowledge was shared to even more of the global community."
Rivers has been working in the Microsoft ecosystem for many years now and started his digital marketing practice over four years ago when he saw a void in the market.
You can find his blog at https://www.marketingmonarchs.com/blog, where he writes about marketing topics, especially around social media.
About Marketing Monarchs
Marketing Monarchs is a full-service technology-focused digital marketing company that helps partners and vendors drive high quality inbound and outbound marketing campaigns. The company activities include baseline messaging, website development, ongoing content development, and social media management. Marketing Monarchs content writers know the channel inside out and know how to grab the attention of the audience.
For more information on Marketing Monarchs visit http://www.marketingmonarchs.com/