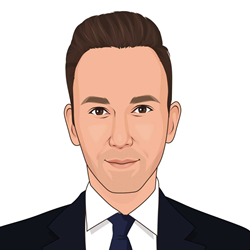 "Posting your content to social media can enable you to engage with audiences both local and global."
LOS ANGELES (PRWEB) April 28, 2021
Digital marketing expert Jon Zacharias, also known as The Search Guy, has posted new information on his trusted methods for retaining marketing reach. As Statista reports, over 293 billion emails were sent during 2019, and many of those were either sent directly to a spam folder or simply unopened in a crowded inbox. Not only that, but cold calls and automated voice messages are having lower success rates than ever as technology advances and smart voice mails continue to filter out numbers seen as spam. Zacharias likens sales to a funnel, in which your reach is poured into the top and slowly squeezed out to actual sales; these helpful tips are meant to keep that funnel full, and maintain your audience's awareness of you.
First, Zacharias notes that cold calling has become less valuable than ever. With a deluge of automated scammers and likely competing pitches, your prospect is more than likely to disregard you at a moment's notice if they're not aware of you. The solution to this, however, is simple: make them aware of you before you call. In founding and working with marketing agency GR0, Zacharias always contacts a prospect via some other means before reaching for his phone. He may connect directly via an email or simply social media, sometimes offering a high-value asset like an eBook or other digital guide to the person. This helps work to establish a two-way relationship and understand that you're wanting to connect with them beyond just asking for monetary support. Because despite how often you may simply ignore a call, a 2018 report from Rain Sales Group found that 69% of buyers reported accepting a call from a new salesperson in the past 12 months.
Next, Jon Zacharias emphasizes the importance of keeping your email marketing campaigns lively, as part of connecting to users before making the sales pitch. These emails should be tailored to the individual, drive interest in what you do, and contain compelling and visually interesting material to engage them. If you need help with this, Zacharias has some specific pointers that will help your email campaigns be a bit more lively and proactive. He suggests using statistics whenever you have them, and experimenting with visually interesting elements like emojis and preview text. On top of that Zacharias has found more success when using powerful words like 'sale', 'special', and 'today only' to help drive the call-to-action, possibly even in the subject line. The key is to focus on catching your prospect's eye and interest them with eye-grabbing material like visuals, emojis, or text; this feeds back into our last step by helping get the user to remember you before you make the call.
Following that, Zacharias continues to theme his advice around the importance of connecting directly with the potential client, particularly by engaging with them personally. This can not only lead directly to acquiring contact or other personal information, but allows you to act as a guiding hand, leading them through every step of their consumer discovery and decision process. It also enables them to understand and espouse the full value you have to offer, broadening your awareness and expanding potential clientele. For Zacharias, this includes a lot of direct networking and engagement, including meeting people whenever possible and safe. Personalizing your advertising is shown to be effective, as a study from Epsilon found that 80% of respondents reported being more likely to engage with an advertiser if it offered personalized experiences. This helps to build yourself up a strong network of potential leads, but not all of them will succeed initially. Importantly, you need to work to keep the information you have on potential clientele relevant so you can attempt to reach out to them at a later date. As Zacharias recommends, subject lines with lines like "Are you still interested? We are!" can sometimes be effective at renewing interest from a client. Remember that there was a reason you worked to nurture this lead in the first place, so do not abandon it at the first sight of decline.
For his final piece of advice, Jon Zacharias advises that simply creating compelling content may not always be enough, and sometimes a bit of extra promotional push is required. This takes investment and smarts, but there are surefire ways to increase your visibility online and drive awareness and engagement with your brand. By utilizing organic search engine optimization (SEO) you can help permanently improve your rating on Google and get better recognition. Posting your content to social media can enable you to engage with audiences both local and global, and gives you an excellent platform for multimedia campaigns that could be photo series, polls, animated .gifs, or other media. It's also crucial that your brand contributes to and starts discussions, whether by posting to a blog or issuing press releases whenever you do something newsworthy. Both of these are also excellent opportunities to improve your organic SEO, by enabling you to reinforce your keywords with reliable sources of information and bolstering your rank within them.
To summarize his advice, Zacharias notes that he did not simply throw away his old strategy book for reaching customers; he merely updated it. Mass emails and cold calls may be trite methods for connecting with a potential client, but offering sincere, personalized content and connections to them can make email and phone viable mediums for sales. The important tool is your understanding of what captivates and interests a person or group of people, and how you can make them feel as if they're playing a part in the brand narrative you're unfolding. This has been Jon Zacharias' philosophy in his own independent ventures and now in GR0, and he hopes that sharing them can help the digital advertising space continue to rise.
Jon Zacharias has spent years working in digital marketing and advertising, and his latest venture GR0 is clear proof of that. He currently works with influencers across all sects to provide meaningful relationships between his clients and their potential audiences, and is constantly working to grow his portfolio. With over 30 employees, GR0 works to help brands improve their SEO rankings on Google and create quality online engagement between them and their customers.