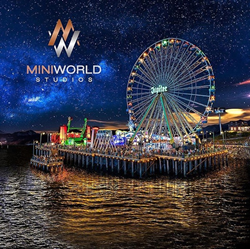 LOS ANGELES (PRWEB) September 13, 2018
Joseph Katz, artist and owner of MiniWorld Studios, has won the Best of Los Angeles Award for "Best Miniature Model Art-2018", according to Aurora DeRose, award coordinator for the Best of Los Angeles Award community.
Born unto a family of artists and on the sacred Jewish holiday called Sukkot— one of the Three Pilgrimage Festivals— Katz and his family spent seven days within an artistically created room in observance of the holiday. It was within this uniquely created space, that Katz's love of art was born.
"Within that space would be miniature biblical and natural scenes that included sheep, goats, trees, water, lakes, etc… I fell in love with it," Katz remembers. "As an adult, I decided to start a business around this memory and my love of art."
Inside of his 5,000 square foot facility in Long Beach, CA lies rows of high-tech machinery and several artists hard at work at intricate stations. However, the pièces de résistance remains his elaborate showroom that is cased with fantastical, miniature wonderlands that are awe-inspiring hits for children and adults, alike.
"While most of the art world has shifted to more non-realistic and abstract art, I wanted to revive the beauty of Realism," Katz continues. "Since miniature art allows me the opportunity to create realistic artwork that entices the senses, I am very inspired to stretch my imagination."
With a limitless imagination on what can be produced, Katz can recreate scenarios from the White House, to Nativity scenes, and even lovely pastoral hillsides in Spring.
"There really is no price range. It all depends on the art. My commissioned pieces can go into the millions, or far less depending on the desired size and scale ordered by my clients," Katz adds. "My customer base is vast— from museums, mall owners, holiday decorators, art collectors and enthusiasts, hotel owners, fish tank aficionados, and so on."
Shawna T. of Inglewood, CA, praises, "The artwork at MiniWorld Studios is so amazing, detailed, and truly inspiring. I couldn't tell who enjoyed the showroom exhibit more… me or my five-year-old son, Noah."
The "Best of Los Angeles Award" community was formed three years ago and consists of over 4,000 professional members living and working in Southern California. It celebrates the best people, places and things in Los Angeles with a slogan "No Ads. No B.S. Only the Best."
"I look forward to bringing your imagination to life," Katz concludes. "Please visit our studio to experience what MiniWorld Studios is all about."
Mini World Studios
727 W Anaheim Street
Long Beach, CA 90813
info@miniworldstudios.com
instagram @miniworldstudios