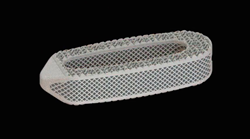 "I can't tell you what it is like to be without the pain! I am constantly saying, thank you God, thank you! Thank you Dr. Joseph, thank you," Suzanne Shahan, first patient to receive Aries-L spinal implant.
TAMPA, Fla. (PRWEB) January 30, 2020
For over three decades Suzanne Shahan suffered from debilitating back pain, multiple spine issues and had undergone multiple surgeries that ultimately left her living a life in unbearable pain.
"My life went away overnight I just kind of lived my life in limbo, I had no strength, it took years to gain the ability just to walk to my mailbox."
Suzanne got her new chance for a normal life on January 8, 2019, when she became the first person in the world to receive Osseus Fusion Systems revolutionary 3D Printed Aries Titanium Spinal Implant. The procedure was performed by Dr. Samuel A. Joseph Jr. and was assisted by Dr. Andrew Moulton of Joseph Spine Institute in Tampa.
"Through 3D printing we are able to manufacture spinal implants that are customized to the patient," stated Dr. Joseph, "this cutting edge technology offers our patients implants such as the Aries L Interbody Fusion Device which can be created at a certain height, a certain length, as well as a certain angle, which offers our patients better, customized care."
After many years of unsuccessful surgeries and procedures to reduce the debilitating pain she had been suffering from, Suzanne was referred to Dr. Joseph. Suzanne was willing to try new procedures, Dr. Joseph discussed the new implant that he had been developing with Osseus Fusion Systems. Dr. Joseph asked Suzanne if she wanted to give this new type of implant a try.
"Absolutely," stated Suzanne, "I want my life back. I can't grocery shop, I can't cook, I can't clean. I need to function."
Osseus' innovative and proprietary 3D printed technology provides surgeon-inspired spinal implants that fit perfectly with the patient's anatomy which can be produced faster and more economically than traditional methods and provides better patient outcomes. 
The procedure consisted of two surgeries in two days. The first surgery was to take out Suzanne's old fusion hardware, which consisted of vertical pedicle screws, which secure the vertebra to each other. The following day Dr. Joseph replaced the old implant with the new titanium implant Aries-L that has lateral rather than vertical screws.
"It was remarkable…instantly," stated Suzanne, "I had never had a surgery like that which I was so able to just get up out of bed and walk around. They want you up that first 24 hours anyway, and I'm very good about that, but this was…ok, I'm up and I don't have that profound pain."
The Aries-L interbody fusion device features a proprietary multi-axis mesh and optimized micro-surface topology, both of which are designed to facilitate fusion. The product's lattice helps increase the implant's porosity to 80%, which provides unparalleled in-situ radio-visibility compared with other titanium implants. The implant's anatomic profile, anti-migrational teeth, and streamlined insertion promote reduced recovery time by helping increase procedural efficiencies. 
Proprietary multi-axis mesh is designed to facilitate bone fusion throughout the implant.
Before the surgery Suzanne's not only had the pain from sciatica but she also developed incredibly painful spasms that went from her rib cage all the way down into her ankle. Her whole side would lock up.
"I called them lightning pains, I didn't know they were spasms, I had never had spasms before," stated Suzanne, "the spasms started to diminish right away. I had fewer episodes and they lasted less time, but towards the end of the summer of 2019, they went away and they did not return, which was incredible!"
"I can't tell you what it is like to be without the pain! I am constantly saying, thank you God, thank you! Thank you Dr. Joseph, thank you! The first thing I think about when I get up in the morning is…I'm not in pain. I can stand up. I don't have to grab on to my walker to get up. I can just stand up and walk downstairs, take care of feeding my animals and get them outside, get my coffee and move about normally without profound pain."
About Joseph Spine Institute
Joseph Spine Institute is the advanced center for spine, scoliosis and minimally invasive spine surgery. Founded by Dr. Samuel A. Joseph, Jr., a fellowship-trained, board-certified orthopedic surgeon. From state-of-the-art technology to alternate therapies and interventional pain management treatments our industry-leading spine care practice offers patients a comprehensive, multidisciplinary approach to diagnosis, treatment, and rehabilitation of spinal conditions. Our highly-trained surgeons and physicians offer an integrated approach to patients that includes surgical and non-surgical options such as pain management and physical therapy.
About Our Founder Dr. Samuel A. Joseph Jr.
Dr. Joseph has been practicing in the Tampa Bay area for over 10 years and is the founder of Joseph Spine Institute. He is dedicated to pioneering minimally invasive, outpatient spine surgical techniques along with complex scoliosis and revision surgery. He is also the team spine surgeon for the Tampa Bay Buccaneers. Dr. Joseph has assembled a comprehensive team of highly skilled spine specialists that are devoted to offering the highest level of spine care available. He has also strategically partnered with some of the most innovative leaders in the spine care industry in order to bring our patients the latest in technology, products, and resources.
About Osseus Fusion Systems 
Osseus was founded in 2012, and is based in Dallas, Texas. Osseus is an innovative medical device firm focused on developing advanced technology products for minimally invasive surgery. Its team of visionary product developers and forward-thinking surgeons push the boundaries of device development, creating unique products that make surgeries more successful, help patients recover faster, and improve healthcare outcomes. The Osseus product line includes Black Diamond Pedicle Screw System, White Pearl Anterior Cervical Plate, Red Ruby Anchored Cervical Interbody, Gemini-C Cervical Interbody and now Aries-TS, Aries-TC, Aries-A, and Aries-L. For more information about Osseus, please visit our website.