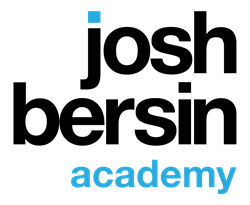 We worked with Virgin Pulse to help us create a comprehensive, objective program that would provide HR professionals with the business and market perspective to assess and improve their own corporate wellbeing initiatives.
OAKLAND, Calif. (PRWEB) May 22, 2019
The Josh Bersin Academy, the world's first professional development academy for HR professionals, announced today the availability of Wellbeing at Work, an Academy program developed in partnership with Virgin Pulse and focusing on all aspects of corporate wellbeing. The program offers guidance and best-practice examples for creating a holistic corporate wellbeing program and suggestions for making a compelling business case.
The Wellbeing at Work program will be unveiled on Wednesday, May 22, at the Virgin Pulse Thrive Summit in New Orleans. Josh Bersin, independent analyst and dean of the Josh Bersin Academy, will be presenting a breakfast keynote, "Wellbeing at Work: Creating a Meaningful Employee Experience," on Thursday, May 23.
"Despite the new technologies and tools we've added to 'simplify' work, we've actually created a workforce of overwhelmed employees," said Bersin. "Economic productivity, the ultimate measure of this problem, is slowing and almost flat. We are in a strange time where unemployment is low and the economy and stock market are doing well, yet we are actually getting less work done each day.
"Most HR leaders are genuinely interested in addressing the health, safety, and wellbeing needs of their workforces, but have difficulty determining how much to invest, which options to offer, and how to best support increasingly diverse workforces for greater engagement and productivity. We worked with Virgin Pulse, a pioneer in developing technology to help people develop healthy life habits, to help us create a comprehensive, objective program that would provide HR professionals with the business and market perspective to assess and improve their own corporate wellbeing initiatives."
"The Josh Bersin Academy's Wellbeing at Work is a first-of-its-kind initiative and we're honored to bring our knowledge and experience to help HR leaders build wellbeing programs that are personalized, inclusive and engaging," said David Osborne, CEO of Virgin Pulse. "For the past several years, we have been helping organizations unlock and quantify the the value of employee wellbeing. The most successful programs we see are those that span all aspects of an individual's wellbeing from physical to mental, social and financial wellbeing. By meeting people where they are and encouraging healthy changes through small, personalized daily actions, we can help people bring their best selves to work. We know that in addition to reducing healthcare costs, organizations that invest in their employees' wellbeing see higher employee engagement, less turnover, and greater productivity and happiness in their workplaces."
Wellbeing at Work, estimated to take Academy members four hours to complete, includes four field manuals: Wellbeing in Context, Physical Wellbeing, Mental Resilience, Financial Fitness, and Family and Community. The program includes multiple video interviews, including a discussion on the relationship between peak performance and mental resilience with Dr. Melissa Hungerford, group director of talent and leadership for Dixons Carphone; case studies and examples from diverse companies such as Patagonia, Marks & Spencer, Unilever, Cummins, Reebok, and the World Resources Institute; and collaborative activities ranging from building a business case to developing an awareness campaign for mental health.
Josh Bersin Academy's enterprise clients can take advantage of the Wellbeing at Work program immediately. Individuals or small teams joining the Josh Bersin Academy can access the program later this summer.
For further details on the Wellbeing at Work program and the Josh Bersin Academy, visit http://www.bersinacademy.com.
About the Josh Bersin Academy
The Josh Bersin Academy is the world's first global development academy for HR and talent professionals at all levels and across all industries. The Academy offers content-rich online programs, a carefully curated library of tools and resources, and a global community that helps HR and talent professionals stay current on the trends and practices needed to drive organizational success in the modern world of work.
The Academy is created in partnership with Nomadic Learning. Nomadic's integrated digital learning solution helps individuals and teams adopt new ways of working and thinking that transforms functions, organizations, and entire professions.
For details and to join, visit http://www.bersinacademy.com
About Virgin Pulse
Virgin Pulse is the world's largest, most comprehensive digital health, wellbeing and engagement company. Founded as part of Sir Richard Branson's Virgin Group, the company is focused on engaging users every day in building and sustaining healthy lifestyles and driving measurable outcomes for employees, employers and health plans. Virgin Pulse is fusing high-tech with high-touch to deliver the industry's only integrated digital platform with benefits navigation, claims analysis and live coaching to support clients and members across the entire health, wellbeing and benefits lifecycle—from screening and assessment to activation, behavior change and the adoption of sustainable, healthy habits to condition management support and closing gaps in care. Today, members in more than 190 countries, spanning over 3,800 organizations—many of the Fortune 500 and Best Places to Work—rely on Virgin Pulse's digital and live solutions to change their lives—and businesses—for good. To learn more, visit VirginPulse.com and follow us on Twitter or LinkedIn.