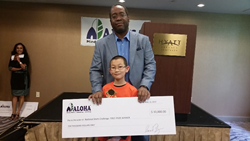 ALOHA's first annual National Math Challenge got the students excited about math in a healthy competition and we gave away significant prize money for their effort, Gerard Pilgrim, ALOHA President & CEO
Edison, NJ (PRWEB) May 30, 2017
Joshua Tchou, 5th grade, from Jericho, NY won the $10,000 Senior 1st prize in ALOHA Mind Math's 1st Annual National Math Challenge this May. $36,000 was awarded to 6 top winners during the finals held in Princeton, NJ. Of the 1200 ALOHA students who competed, and from the 318 semi-finalists, 42 students made it to this final round.
All Top winners were:
Senior Category winners and prizes: Grades 3-6
1st Prize, $10,000, Joshua Tchou, ALOHA Center in Flushing, NY
Tied for 2nd, $4,000, Sathvrik Redrouthu, ALOHA Center in Ashburn, VA
Tied for 2nd, $4,000, Ronak Ramesh, ALOHA Center in Manchester, CT
Junior Category winners and prizes: Grades K-2
1st Prize, $10,000, Avani Anand, ALOHA Center in Marlboro, NJ
2nd Prize, $5,000, Varyan Jain, ALOHA Center in Cary, NC
3rd Prize, $3,000, Micah Khanna, ALOHA Center in Cerritos, CA
Children enrolled in ALOHA Mind Math programs across the U.S. geared up this spring to participate in ALOHA's 1st Annual National Math Challenge. This math test-based competition, designed for children in Kindergarten through 6th grade, had three rounds. The live finals, held in Princeton, New Jersey in mid-May 2017, brought students together to compete from all over the US. ALOHA is planning to make this an annual competition open to the public. More details will be released in the fall of 2017. "ALOHA's first annual National Math Challenge got the students excited about math in a healthy competition and we gave away significant prize money to reward their effort. It was great watching the kids take their math knowledge and explore their capabilities," said Gerard Pilgrim ALOHA President & CEO.
About ALOHA's Senior 1st Prize Winner
Joshua Tchou, from ALOHA's Flushing, NY Center attends Robert Seaman Elementary School (5th grade), and lives in Jericho, New York. Joshua said, "The ALOHA program has vastly improved my math skills. I would highly recommend this program."
"I enrolled Joshua a few years ago to enrich his mathematics skills. He likes Math. ALOHA has helped deepen his thinking and enhanced his skills, including math and logical thinking. Recently, as captain of his school team for Math Olympiads (Nassau County Math Tournament, held at SUNY Old Westbury, May 23, 2017), Joshua won the first prize as a team. Individually he won the second prize. Honestly, my wife and I had no expectations when we signed Joshua up for the National Math Challenge. The win is a wonderful gift. It boosts Joshua's confidence and enriches his life experience. My wife and I appreciate this immensely," said Joshua's father, Wen-Wei.
How Can a Child Get Involved in ALOHA Programs?
ALOHA is currently training children K through 6th grades in Math, Reading and Writing at over 120 locations in 19 states across the U.S., including: AL, AR, AZ, CA, CT, FL, GA, IL, MA, MI, MO, NC, NH, NJ, NY, OH, PA, TX, VA*. For more details on these programs, go to http://www.ALOHAMindMath.com, search for a nearby center using ALOHA's online center locator, check the ALOHA Facebook page (http://www.Facebook.com/aloha.usa), or call 877-256-4203 to find a local center near you.
*Each ALOHA learning center is independently owned and operated. For more information on the ALOHA Challenge: click here.
ALOHA
Since 2006, ALOHA Mind Math, a leading provider of mental arithmetic and English Reading | Writing after school programs, has been guiding children in the U.S. between the ages of 3 through 14 to achieve academic excellence in these grades. ALOHA is currently training children at over 120 locations in 19 states across the U.S. Programs also include a Tiny Thinkers pre-school program for ages 3-5, and a STEM summer camp for 10-14 year-olds. The interactive learning process ALOHA uses enhances a child's math, reading and writing capabilities. The teachers also assist children in developing skills and abilities such as observation and listening that result in the overall growth of the child. The ALOHA program is also in use in 20 countries worldwide.