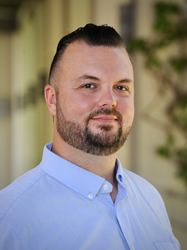 "I am honored to be in a position that enables me to expand these brands while positively impacting the health and lives of millions of more people." - Joshua Beal, VP of Marketing, Vi & Liv
LOS ANGELES (PRWEB) June 11, 2019
Vi, a global healthy lifestyle company, and sister company, Liv, a new lifestyle experience platform, announce that Joshua Beal has accepted the position of Vice President of Marketing. The new role is part of the global brand initiatives to position Vi and Liv for fast growth domestically and internationally.
Beal has more than 15 years of corporate and consulting experience in creating digital media strategies, producing/directing films and videos, and developing content in the direct selling, social tech and media/TV industries. With expertise in storytelling and results-driven marketing, he's built brand platforms and content campaigns for diverse companies, from startups to Fortune 500 brands.
For more than a decade, Beal has played an integral role at Vi and Liv, which included helping to create the video division that transformed Vi into a social giant and launched them from a start-up, to a global industry leader, to a billion-dollar company. Under his leadership, his teams have earned industry awards in product marketing, training and video campaigns that include the MarCom Platinum Award, various Telly awards and a Promax Silver Award.
"Vi and Liv are transformation companies always challenging the status quo in what it means for people to truly live their best lives possible," said Beal. "I am honored to be in a position that enables me to expand these brands while positively impacting the health and lives of millions of more people."
As VP of Marketing reporting to Blake Mallen, President for both companies, Beal is responsible for developing and implementing marketing strategies that increase brand awareness and company revenue. He will also lead all Content Marketing, Social Media, Video, Communications, Design, Creative Services, and PR teams.
"Josh – his expertise, his character, his passion for helping others – is part of our corporate DNA and has been with us throughout this whole journey of turning our mission into mainstream movements," said Mallen, Vi/Liv Co-Founder & President. "With Josh at the marketing helm, we're excited to continually impact our Promoter and Customer communities around the world."
For company details, visit Vi.com and MeetLiv.com. Connect with the Co-Founders behind the brands at Instagram.com/nicksarnicola and Instagram.com/blakemallen.
About Vi & Liv
Vi is a global healthy lifestyle company transforming Life, Health and Prosperity around the world through platforms, products and people. Founded in 2005, with offices in North America and Europe, Vi develops healthy meals, drinks, snacks and supplements, and is most known for innovating the wildly successful Body by Vi Challenge, the world's original Challenge marketing platform. Learn more: Vi.com. Vi's sister company, Liv is a new lifestyle experience platform inspiring people to turn their "Bucket List" into a "Liv List." Learn more: MeetLiv.com