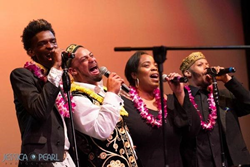 He draws on the history of African American gospel music to compose his own versions of Jewish liturgical music, this is wild, beautiful stuff.
SAN RAFAEL, Calif. (PRWEB) February 05, 2019
For Joshua Nelson, kosher gospel is a way to claim both parts of his identity as a black Jew. Kosher gospel has been able to retain the same musical cultures of black African Muslims and Jews with that soul-inflected vocalizations which filled the black Hebrew synagogue Joshua attended as a child with his family, observant Jews who traced their lineage back to Senegal.
Nelson has performed around the world, for presidents, congregations, major music festivals, and Oprah, who named him a "Next Big Thing." He has sung with stars from Aretha Franklin to the Klezmatics, and served as the subject of the acclaimed documentary film "Keep on Walking." Whatever the venue, Joshua Nelson, the Prince of Kosher Gospel, brings people — and cultures —together in joyous song.
https://www.youtube.com/watch?v=mIkt3-o9VKo&feature=youtu.be
Wine, beer, a selection of soft drinks along with Peet's coffee, Numi tea and a variety of snacks and freshly baked goods will be available for purchase. Concessions may be enjoyed throughout the performance in the theater. No table service.
WHAT: An Evening of Kosher Gospel performed by Joshua Nelson & the Kosher Gospel Singers
SEATING: Reserved & general admission choices
TICKETS: $25 – $35 / Ages 17 & under $10 | Available at marinjcc.org/arts
EVENTBRITE: https://www.eventbrite.com/e/joshua-nelson-the-kosher-gospel-singers-march-16-2019-tickets-54809185750
ARTISTS' WEBSITE: https://www.joshuanelson.com/
WHEN: Sat. Mar. 16 @ 8 p.m. | Doors | Beer/Wine/Concessions open @ 7 p.m.
WHERE: The Osher Marin JCC, 200 North San Pedro Road, San Rafael.
PARKING: Ample FREE parking | The Osher Marin JCC is 1/2 mile E off 101.
6:30pm: Box office opens
7:15pm: Theater doors open
8:00pm: Concert begins
There will be an intermission.
Facebook: https://www.facebook.com/marinjccperformingarts/
https://www.facebook.com/events/598781717229061/
Twitter: https://twitter.com/KanbarCenter