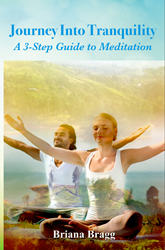 "I have been doing various meditations for over 20 years. I was delighted to learn about meditation and breath-work. If you are a seasoned meditator or new to meditating Journey Into Tranquility will undoubtedly improve your life and give you another self-care tool."
FORT LAUDERDALE, Fla. (PRWEB) May 14, 2019
Journey into Tranquility®, is the meditation certification program under Vacation of the Mind®. The techniques taught in this mediation certification course are now available to anyone who wants to learn how to meditate on their own. This book is a 3-step guide to meditation, utilizing practical and proven techniques that can be incorporated into your daily routine.
This 3-step guide to meditation teaches how to take a peaceful journey of the mind at anytime and from anywhere. With routine practice, this exercise can relieve stress, refocus the mind, and bring unbounded joy to your life.
Vacation of the Mind® is a guided meditation company with a mission is to touch one million lives or more for positive lifestyle changes. Meditation is a mental exercise for the mind, it takes practice to better train your "muscle", with practice you will become stronger and get better at calming and refocusing the mind. The Journey into Tranquility® book is built for anyone seeking inner peace, reduced stress and more calm in their lives.
Journey into Tranquility® explains the basics of meditation and how to incorporate mindful practices into your daily routine. This book teaches a 3-step process: Breathe, Refocus, Journey. Learn effective breathing techniques for calming the central nervous system, refocusing techniques for the mind and how to take yourself to a beautiful place in your mind for a "mind-break" whenever you need it.
"I have been doing various meditations for over 20 years. I was so delighted to learn more about meditation and breath-work. If you are a seasoned meditator or brand new to meditating Journey Into Tranquility will undoubtedly improve your life, give you another self-care tool and most of all, expand your capacities" - Connie Warden owner of Za Zen Lifestyle and certified instructor under the Journey into Tranquility meditation certification course.
Purchase your copy of the book today!
To learn more about guided meditation, how to join the Vacation of the Mind® tribe and upcoming events, visit our website here.