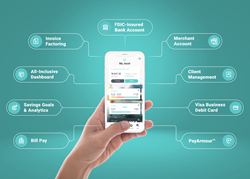 This rapid increase of independent workers in the U.S. has given rise to a range of new financial needs.
AUSTIN, Texas (PRWEB) January 28, 2020
This morning, Joust -- the nation's first all-inclusive banking app for freelancers and the self-employed -- launched a new mobile app with a modern, intuitive design, and several key features which round out its original beta app. Based on customer feedback, these new features include an analytical dashboard, Joust Visa debit card management, invoice creation/payments, and more. Joust will continue to release a host of new app features throughout 2020.
In addition to these new features, the Joust app will continue to boast its invoice-guaranteeing product, PayArmour™, which funds unpaid client invoices, and its FDIC-insured bank account combined with a merchant account.
"We are thrilled to announce our new app. Since our beta launch, we have kept a steady eye on our users and really dug deep into our product feedback," says Joust's CEO and Co-Founder, Lamine Zarrad. "Our users are risk-takers who want one place to easily manage their finances -- so they can have the time and space to focus on their passions. They wanted a modern, streamlined user experience, ways to quickly visualize their finances, and manage clients, income and payments. Basically, they want one business platform that helps them from point A to Z. Our new app does that and will continue to do so throughout the year."
Currently, the U.S. has 57 million freelancers, and by 2027, more than 50% of the country's workforce is expected to freelance in some capacity (Upwork & Freelancers Union, 2019). This rapid increase in independent workers has given rise to a range of new financial needs -- including managing clients, accepting a range of payments (e.g. credit card payments), and mitigating the risk of irregular income. The Joust app was created to solve these workers' often overlooked financial and banking needs.
The new app design is clean, intuitive and aspirational, giving users the flexibility and ability to navigate easily from one function to the next. The customizable dashboard includes bank account analytics, client management, invoice features, and bill pay services. Launched in 2019, the Joust Visa debit card can also be managed within the app.
The new suite of features to be launched through 2020 will include P2P payments, savings goals and remittances, direct deposit, invoice estimate creation, and payment reminders.
Joust recently raised 2.6 million dollars in seed funding.
About Joust
Joust is the nation's only all-inclusive banking platform for independent professionals. Founded in October 2017, Joust serves freelancers, contractors, and self-employed workers in all 50 states. The company's business banking app combines an FDIC-insured bank account with a merchant account to accept all kinds of payments. PayArmour, Joust's invoice guarantee product, mitigates client nonpayment—a problem that affects 71% of the gig economy workforce—and helps smooth income volatility with an option to receive same-day funding.
For more information, visit Joust's website at https://joust.com. The Joust app is available for download on both Google Play and the Apple App Store.